the mirror in my story.
January 10, 2010
A mirror can tell a story, hold meaning. It's almost like a vision or a dream on the outside of the mind. And at times I wish my mirror was a dream. I wish it could hold more meaning than what it does now. Another meaning. My mirror is a nightmare. A nightmare with no other meaning than to haunt me. It's a glassed hell. Caged up in the reflection is a creature – a monster. Swampy brown hair surrounds an obese body covered in red skin that's doused in flaws and blemishes. Eye's pierce through a forest of bushes to face the silver hell. I close my eyes so I won't have to face the monster; so I don't have to face myself. And as I slowly open my eyes the image begins to change.

Now I see a girl with a black waterfall that follows her neck and falls upon a black corseted top. Beautiful, gray eyes peer solemnly past crimson colored bangs. I reach out my pale hand to touch her and bring her in. Her arm mimics my own and it's not until my fingertips caress a crystal glass that I realize I am staring into my own reflection. The nightmare is finally over, not yet a dream, but I am no longer a hideous beast. This summer was about change and it happened. I'm starting off sophomore year in a mini skirt and combat boots. Definitely a change.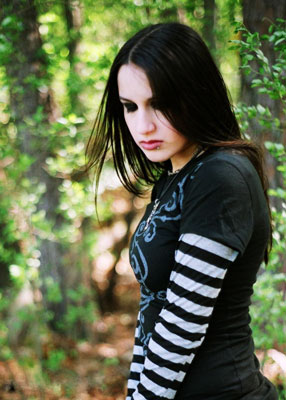 © Rebecca B., Marietta, GA