I Wrote Love
January 9, 2010
I see everything in black and white. I see the shadows, the trees, the night. So much night.
I am part of the night- that's what he says. Nothing I do is ever good enough for him: nothing I smoke, nothing I drink, nothing I say, nothing I give to him. I never give him enough. He says he's part of the light, that he should be my model, that everything he does is right. I'm the one who's wrong. I'm the one who is bitter, angry, hurt, desperate. And when I tell him this, if I could ever tell him this, he would tell me I'm wrong. That this is my fault. That I'm giving him a hard time. That I'm the one who's the shadow. And at least about this he's right. I used to be a butterfly. I used to dance and sing and be lovely. Everything was light and colorful; the world was my canvas.
How can someone go from being so light to so heavy? From so light to so dark and hidden? You tell me that hurt is love, pain is gain, suffering is victory. You've broken me, shattered me, torn and balled me up to oblivion.
Tonight I go into my bathroom and see red. A red L. A red O. A red V. A red E. I write love on my arms. Maybe when I can be loved, I can love myself.
I see everything in black, white, and red. I see a girl in the mirror, and I see her bleeding tears. I see the trees and the shadows. I see night.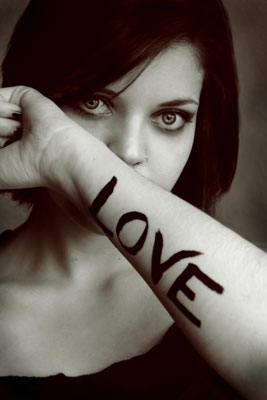 © Michelle B., Blairsville, GA