Not the son he deserved
January 2, 2010
It was ten years after my mom died. My dad said he was still in love with her, that's why he wouldn't go out on a date. Every Tuesday, after school, at 4 p.m., on the dot, I meet my dad at Amy's Home Town Diner. We meet there for dinner and stay for dessert. We sit in the same both, have the same thing, and even have the same waitress every Tuesday. Dad says it is the apple pie and memories he goes back there for. But I know it is for Sarah, the waitress, he goes back for.

Tuesday, December 29, 2009
"Hey Dad" I say walking in, late.
"Hey Sam! I already ordered your favorite, chicken nuggets with ranch dipping sauce." He says with a goofy, proud-dad smile, god I hate that smile.
"Thanks" it came out a little sarcastic like, but, who really cares, right?
"Its still your favorite right?" he asks this question every time…every stupid time!
"Yea, still my favorite." I haven't got the heart to tell him that I hate it, but why ruin the moment? Ha!

The sight of the place still gives me goose bumps, it still sends shivers down my spine. The torn fabric on the booth seats, the old jukebox in the corner that doesn't play anymore, and the places where tiles are missing, from wear-and-tare, or where they tore up the seats that use to be in front of the counter. There's only about 5 windows, well there's only 2 you can really see anything out of. The other 3 give you a clear view of the brick walls of the other buildings that were raised around this one. The smell of cigarette smoke lingers in the air, and is embedded in the seats. Yet this place has been smoke-free since the 80's.

Dad says that this is where him and my mom met, back in 1975. Where they had their first date, their first kiss, and surprisingly, their first Christmas as a married couple. When they met they were only 14 years old, only 3 days apart to. Who would guess these high school sweethearts would be married for 25 years. This is where they hung out after school, where they hung out over the weekend, even where they hung out during major holidays, I'm guessing the 70's where a different time.

Dad always says, when he walks in the door, he sees my mom at the counter, sipping a chocolate malt, in her cheerleading uniform. But then she fades, and its just Sarah standing there taking an order.
"So, Sam," dad says, awkwardly, "how was school?"
Same old questions, every Tuesday, "Fine."
"Anything interesting happen?" he smiles.
He wants a conversation, but I'm not going to give that to him.
"Nope."
"So what are you doing this weekend?" he tries so hard, yet fails.
"Nothing."
"Oh, you want to go fishing with Patrick and I?"
He always wants to go fishing.
"Not really."
"Oh. Okay." DEFEAT!
"The bands probably going to practice." I say, I just feel like I need to give him a reason now.
"Oh. You're still playing guitar?" He asks, surprised for some reason. I've only played guitar for 8 year.

I don't answer. What's the point? This is the same thing we do every Tuesday.

I look through the big windows that look out to the street. These are the only 2 you can see anything out of. When you look around this place, it looks very 60's style. Nothing very new about it. There are only 4 customers in the restaurant, including us. The other people are 2 older gentle men. One at a table, the other in a booth. But both are seated by the big windows. The tables on the left side of the door, booths on the right. We are in the back corner. By a small window that looks at the red-brown bricks of the lawyer offices next door. We are right beside the broken down jukebox, what a happy place to be…not!
"Here you are?" The twenty-something year old girl says. She's new, I've never seen her before. But I can tell you one thing, she's cute.
"Thank you." I say in the most mature voice I think I have. She giggled. She giggled at me. What a confidence boost. I am the defeated one now.
"Thanks" my dad sounds so much more sophisticated then I do. She smiles. But doesn't giggle. Thanks dad. "So son, what do you want to talk about?"

God, he still wants a conversation, even after I shot him down how many times?
"Nothing. Nothing at all." I pick apart the chicken. I'm so tired of chicken. It wasn't even good chicken to begin with. The only reason I use to order it before is because it was the only thing on the kids menu.
"So," father states so casually, "I wonder where Sarah is?"
"Probably behind the counter. Oh wait I lied, she's walking over here. Oh god dad, fix your hair, make your self presentable." I love sarcasm. But what's worse is he actually fixes his hair and everything. God.
"Hi Sarah." He sounded like I did with the twenty-something girl. But Sarah doesn't giggle.

I turn my head, pretend something interesting is going on out the window, that there's something more then just a brick wall. I look like an idiot. I don't hear a word they say, cause frankly, I don't care. But soon I realize she's no longer there.
"So, what do you think of Sarah?" Dad's asking my opinion of a girl. Doesn't he realize, you don't do that between father and son, you do that between friends. We are not friends.
"What do you mean?" I can't stand talking to him about girls.
"What would you think if we started dating, or even possible got married?"
I can feel my face getting red, not from embarrassment, no, but from hate, anger.
"How can you do this? She will never be my mother. I thought you loved mom? But you can't even care about me. You know what do what ever you want. I don't even care." I got up and stormed out. I can't take him anymore. I don't know where I'm going. But its going to be somewhere out of this town.

Tuesday, December 25, 2012

It's been two years since my fathers death. I don't know why I came back to Amy's Home Town Diner. Maybe it was to see if I would have one of dad's old memory visions, or maybe it was just to show my dad that I finally forgave him for doing nothing wrong.
The last time I saw him. I was running out these doors that I am now entering. I wish I could tell him that I did something good with my life, but I can't. I went from one shelter to the next. One part time, crappy job to the next. It took me 3 days of hitch hiking just to get back here.
This place has changed. New tiles, they got rid of the old jukebox, now there's a fancy-shmancy sound system. There's only tables now, they even got ride of the counter. But there's one booth left. In the far back corner, by a picture of jukebox .
I ignore the new sign that states I have to wait to be seated. I know where I want to sit. Nobody's going to stop me.
When I finally get there, I read the plaque screwed to the table:
"In memory of Samuel Johnson and Sarah Johnson."
I guess my dad married her.
There's a picture by the booth, right under the one of the jukebox.
Its my father and I. The Tuesday before I left.
I guess something good came out of going there every Tuesday. My dad got what he deserved, if only he would have gotten the son he deserved. Not only did he lose his beloved wife, he lost his only son, the only thing he had left.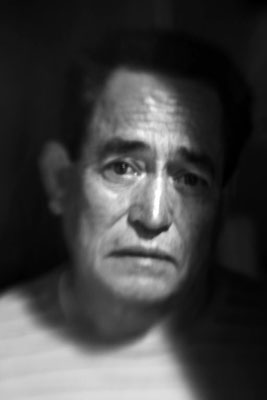 © Adam P., Goleta, CA