Alone
December 30, 2009
I had been alone for four days now. Four days in the merciless Texan sun. Four days lying, my hands bound tightly behind my back, in the bed of the green pickup truck. From what I could see there was nothing in the great expanse beyond the ranch, nothing at all. It was a bleak, open landscape, full of nothing but endless dirt, cactus, and a few straggly mesquite trees. Even the ranch itself was empty. The house, a dilapidated shack clad in peeling white clapboard, was completely still. The split-rail horse corrals were deserted. All signs of life were absent.

I sighed. Once again, I felt my eyes welling with tears. If only I had stayed home that day. If only…
"Hey you, hey you, girl!" I opened my eyes to see a man with thick, tan arms walking toward the back of the green truck. He was smiling. He held a piece of bread in his hand. He let down the tailgate and then just stood there for a moment, looking at me.
He was a fat, shirtless, middle-aged man. His chest, covered in unruly black hair, glistened with little beads of sweat. A muddy brown mop-head adorned his head. Red suspenders framed his cascades of bulk.

The man set the bread down on the tailgate and stepped back, as if waiting for something to happen. My stomach grumbled loudly. I imagined the soft, moist bread in my mouth, the flavorful taste replacing that of foul saliva and blood.

"Come and get it, dog," he taunted. "Come and get it, doggie! Come on, doggie, doggie!" He doubled over in hysterical laughter. I squirmed, trying to free myself. I threw my hands forward and set my feet on the back of the green truck. "Push!" I commanded my numb legs. Slowly I inched forward. The man with the thick, tan arms laughed. I pushed again, pulled again. A wave of fatigue threatened to drown me. I stopped, gasping for air.
What felt like minutes passed. I followed the same routine: push, pull, rest, push, pull, rest. I glanced up. The man was still there, still standing behind the open tailgate. He had stopped laughing, but a secretive smile was smeared across his face.

I summoned all of my strength and lunged forward, feeling for my prize. My hands grasped empty space. The man with the tan arms was laughing. My heart sank. In his hand, he held the piece of bread.

"Gotcha!" he yelled. He stuffed the piece of bread in his mouth. He chewed slowly, savoring each bite. When he was finished, he licked his fat, pink lips. "That was good," he sneered. He slammed the tailgate shut and headed to the cab of the truck.

I lay there, curled tightly in a ball. I was hungry. I was tired. I sighed and closed my eyes. A single tear trickled down my cheek. I was afraid. I was afraid of my captor, afraid for Mama. But I was mostly afraid of what was yet to come, the future, the unknown.

The engine sputtered to a start and the green truck lurched forward.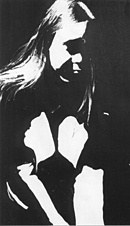 © Tabitha M., Kannapolis, NC