When They Disappear
December 29, 2009
Where do people go when they disappear? I thought to myself as we waited. My mother gripped my hand so hard, I thought my fingers had snapped long ago when her knuckles turned white. The police station looked sterile, not the dumps you usually see on television. I stared out the window, noticed the sky was gray, and the clouds rolled along like a living thing. The hair stood up on the back of my neck. It was like the sky was hiding from us, because it could feel our bad luck, the fact that my brother was missing. The sun was staying put behind the squirming clouds.

And the officer came into the room. My mother squeezed my hand even harder, if that was possible. We both stayed sitting down while my father stood to greet the police. I was in a kind of trance, and only a few words broke through my catatonic glaze. "Nowhere to be found...", the officer mumbled, his eyes staying on the gray floor. My father whispered some other unrecognizable words and we were off. He practically pushed us out the door and into our green van, and he stomped on the petal, so the van rocketed off. "Where's Riley? " I heard myself ask in a monotone. I never did get an answer. We passed the fields that were usually filled with colorful flowers. They all seemed to be colored in shades of black and white as my mother worked her worry stone in the front seat. There had been officers at our house the other day, hooking up some kind of machine to our phone. "Maybe there'll be a ransom call, " the red-haired officer explained. "Maybe you'll get lucky. "

Riley was only six, almost seven years old. He wouldn't run away. He never wanted to leave his 'mommy'. He wouldn't run away. Never. Not without Di-Bird. The old stuffed animal had still been sitting on his bed when we hadn't seen him for three days. "Shouldn't you be doing something? " my mother had practically yelled. "Sending an Amber-Alert or something? " The officer had rubbed his neck. "We're doing everything we can. You just have to be patient. "

I could remember when Riley and I had played hide and seek a week before he'd gone missing. He had horrible hiding spots, but I would just walk on by, pretending not to see him, because he was so sure he'd found the best spot possible. He wouldn't be hiding from us. He had horrible spots. We would have found him by now.

Someone had taken him. Who would abduct a seven-year-old boy? That's what I wanted to know. Maybe he was in some kind of trouble.

We sat at home, all of us thinking of all the children who went missing every day and never made it back home. My family never dwelled much on the positive. We always thought of worst-case-scenario, so we would be set with all the worst options and be prepared if they happened. All of a sudden, we heard a car park on our gravel driveway. I walked to the door and saw a large green van that was very similar to our own. The side door opened and Riley came running out, his eyes wide, his brown hair a mess. "Riley! " I yelled, surprised by his sudden appearance. Mom and dad came running and burst out the door. Riley rushed into their arms. Behind him were two adults, both wearing bright green shirts that read "Camp Oak & Fun". I was confused. The man came up first, and started talking to my father. I was so suprised that only a few phrases broke through my overjoyous mind as I crushed my brother against me. "....acidentally got rushed in our van by accident.... we were trying to gather all the children and mistook him for one of ours..." The woman talked to my mother, "...took us a while to figure out what he was saying. We had so many children...We were all the way in Montana before we understood. None of us had a phone, the little guy didn't know his number... "

Is that where people go when they disappear? I thought. Are most kidnappings mistakes like ours? I knew that they were not, but I was extremely happy, and we were extremely lucky that we had Riley back. We were so happy that the disapparance was an accident, and I hugged my brother against me.

I looked up at the shine that was bright in my eyes and noticed the sun had come back out. Maybe, I thought, it saw how our luck had changed and came out of the gray clouds to celebrate with us.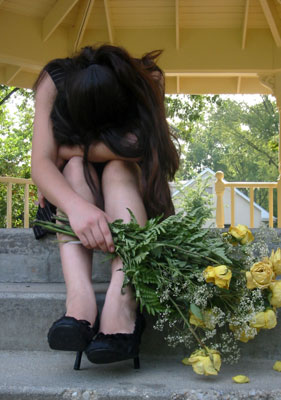 © Martha V., Morton Grove, IL