This is my life
December 18, 2009
My jacket feels cold against my cheek, but not nearly as cold as the window. I slowly raise my eye lids and stare at the frosted glass. The man next to me shifts and places an arm on the seat in front of us to help raise him from the old bus seat. I am exhausted from a long weekend of work. 'I need a new job' I think to myself. I normally don't have to work on weekends, but they needed the extra help. Since there was nothing else to do this weekend, I felt obliged to pitch in.

I breathe in deep and let out a big sigh. The woman in front of me turns her head around with a look of concern on her face. I sink down in my seat and hide my face in my scarf. I hope that gave the message to leave me alone. I was not in the mood for any pity from a lady on the city bus.

As my stop nears I quickly grab my bag and head for the front. I step over feet in big heavy boots and brush by men wearing jackets. I thank the bus driver for the ride. He knows me by name, this is a sad fact. I step out into the cold air and the frost whips at my cheeks and nose. I walk up to my apartment building and say hello to the old man that stays outside the door sometimes. I feel bad for the man. I walk up and press the elevator button with my mittened finger. I press it again, nothing happens. 'Dang elevator, it's broken again.' So I turn to the stairs and trudge my way up to the fifth floor.

I take my keys out of my jacket pocket and quickly unlock the door. I hurry inside and then turn to lock the door again. I don't live in the best neighborhood so it's best to keep yourself away from the outside world. I slide off my work sneakers and shrug off my jacket. My family is no where to be seen. So I walk to the kitchen and throw the bag on the table. The holidays are over so there are no decorations out anymore. Just the plain apartment walls and the bleak snow covered buildings outside.

I check the fridge for a note from my mom, and of course there it is. It was held up by an old wreath magnet that I got from my teacher in second grade. Those were the good days. Those were the days where I didn't have to work everyday to try and support this family. Those were the days when my mom wasn't out every night doing whatever she does. Those were the days when my brother didn't spend every night at a friend's just to avoid spending time in our rundown apartment. Mostly, though, those were the days when my dad still lived with us, the days before he left us.

But now, this is my life. I start a pan of boiling water on our stove and grab a box of noodles from the cupboard with the loose hinge. One time my little brother was going for the rare box of fish crackers and the whole door came down on him. He was ok in the end, but I had to spend a whole Friday night trying to reattach the door. Nothing is ever quite perfect around here anymore. I shiver in my loose sweater and remind myself to pay the heating bill next week. I finish making the noodles and sit down at the table and eat the steaming pasta with one of our beat up spoons. The heat helps warm my nose and cheeks, as they are still frozen from the ride home. I now have a late night to look forward to. This is the normal night for me. My night consists of my brother coming home, putting him to bed, waiting for my mother to come home, sometimes having to help her to bed after her night out, and then crying myself to sleep.

This is my life, but I do the best with what I have.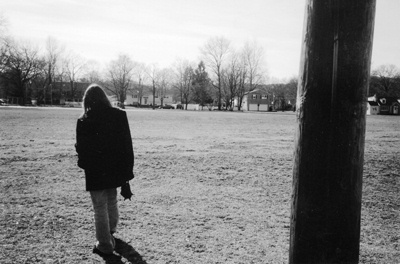 © Rosalie P., Pompton Plains, NJ