An Unlikely Match
December 17, 2009
Bethany stared at him from across the mahgony table. Her best friend Kimberly was at her side with Kim's older brother Issac beside Kim. Next to Issac Bethany couldn't stop eyeing Issac's best friend, Derek. His light brown eyes were mesmerizing. From what Bethany could see Derek had his lip pierced with a black circle flowing from the front of his lip to the inside with a ball in the middle. She stared closer to his eyes and saw his eyebrow too was pierced. His hair was short and dark brown and he only seemed to be 19 years old.
Kimberly looked over at Bethany like she was stupid. " What are you DOING??!?!" She laughed. Bethany snapped from her daze which she apparently was in too long and flinched at the reality check.
"Oh sorry! what?"
"what are you staring at?" Kim repeated. Beth hesitated, "Sorry, I just can't stop staring" she chuckled a bit, "his eyes are hypnotizing." Kim got a good laugh out of this as she whipped out her razor phone and started texting. "Who are you texting bestie?" Beth tried to change the subject.
"Oh.. just your eye-candy" She said faintly with a giggle. Beth felt a shock go through her system. She sat straighter in her chair wondering what was being said.
"Wh-what are you saying to him?"
"Oh you know... that you think he's cute." She smiled.
Bethany started to feel a warm feeling spread through her body as her nerves began to get to her. Bethany wasn't always so sure of herself, she was self conscience and fell for people too easily but was too scared to talk to any guy if she liked them. Beth caught Derek move from the corner of her eye and her vision sprinted to him but looked away faster. She caught him looking at his phone and smile. She could feel her cheeks turn red. Just then Kim's phone went off with her text message ringtone.
"What'd he say?" Beth whispered with excitment and nerves in her voice.
"He said you're not too bad yourself," Kim gleamed with her success at making Beth feel a bit better about herself.
"Really? What are you saying now?" Beth asked as Kim's fingeres glided across her cellphone's keypad as if they weren't touching the keys.
"Is this your right number?" Kim held out her phone with Beth's number in the text box ready to send.
"Mhm." Beth nodded excited that Derek thought she was cute too. She heard Derek's phone go off again and decided it was safe to move. She got up from the table and walked up the spiral steps to the bathroom to go look at herself to wonder what Derek was seeing. "Right now" by Akon started going off in her pocket as her cell phone started vibrating in her skinny jeans pocket. Her stomach knotted as she reached in to get it. Beth looked at the number and giggled to herself seeing a number that was not yet put in her phone. She opened the SonyEricsson and hit accept as her eyes read over the words "Got it." She looked at the words questioningly and then hit reply and said "Huh?" She couldn't work out much more than that. She was already confused.
Her phone went off not even a minute later with the same number showing up, "I got your number." She smiled and figured it was safe to put the number in her phone, then texted back.
"So what did Kimberly tell you?"
"Just that you thought I was cute. Your cute too." Bethany smiled and beamed as she opened the door to walk back downstairs and resume her place next to her best friend.
-----------------------------
On the ride home from Kim's uncle's house, Issac and Derek went in one car and everyone else went home with Kim's parents. The whole ride home Beth was texting Derek about hanging out when they got home.
"Hey I'm sleeping over tonight, you should too. We could get to know each other better." Derek had texted Beth.
"Yeah I'll see what I can do." She texted back. "Hey Kim..do you want to have a sleepover tonight? I can sleep at your place."
"Yeah sure. Let me ask. Mom!" Kim called to the front of the mini van filled with her family members. "Can Beth sleep over tonight?" Kim then looked at Beth and nodded. "Just call your mom to make sure its ok."
"Will do." Beth, now filled with excitment picked up her cell phone that was buzzing. 'Hey I'm calling my mom to see if I can spend the night.' She quickly texted Derek. "Hey mom. Is it ok if I spend the night at Kim's house? Please? Yeah it was fun. So it's ok? Thanks mom. We are going to stop by so I can get some clothes. OK See you see. I love you." She slid her phone shut and texted Derek back. 'I'm sleeping over.'
"So what do you want to do tonight?"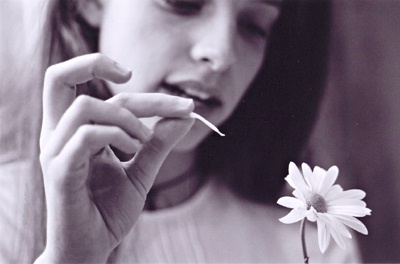 © Emily B., Houston, TX