sounds of silence
December 17, 2009
A monotone blip echoed through the bleak room. Aging blue wallpaper and drab curtains hopelessly hid the inevitable. Dark shadows permeated the far corners. An antiseptic fog lurked in the stale air, a harbinger of things to come. Remnants of medical soap lingered and fused with the odor of starched sheets. Minutes ticked away, and the grasp of my brothers' hand grew weaker. His complexion was a ghostly pale; the thin pillow beneath his fragile head was only a shade lighter than his face. Rubbing my puffy red eyes, I shivered. The wretched beep still rung through the room. Planting kisses on his hand, I tried to remember days of old. But reality invaded my mind like some conquering nomadic army. The soft blips consumed me, and I was transported to a vast abyss. Suddenly it arrived, abrupt and merciless, a continuous moan, and a horizontal green line on the black screen.

Flinging myself on him, I heaved loud sobs. A dam had instantaneously burst and tears were gushing from my eyes. Regretfully I wished it had been me, because without him I was dead anyway.


The time that followed was a blur. Propelled by an unknown force, I was a zombie among the living. I continued as close to a normal life as possible, but still nothing felt right. Depression heaved over me like a tsunami. Like an atheist at church, wherever I wandered I was out of place. My emotions swirled into a grey oblivion.


Finally I had eaten my last frozen dinner, drank my last drop, and my six-month hangover was subsiding. With nothing and no one to turn to, I consumed my self with my career. Workaholic was the name stamped across my forehead. Old tweed blazers and patent leather pumps were resurrected from plastic storage bins. Mindlessly I drove to work day after day. Weeks melted together, and the only reason I had a grip on time was from frequent updates on my Blackberry. I was a woman afflicted by mind control, like a freak from a bad science-fiction movie.


One particular morning on the way to the office, I was driving unusually fast. A quick flash and I felt myself lurch forward. Awareness of the world faded into a whit wisp. Waking up, the frightening sounds of the ICU whirled in a frenzy around me. My body ached, but the room felt light and almost cheerful. Get-well balloons and bouquets were scattered about, though over everything the little blip remained dominant. The very noise that had haunted me those long months ago was now sweet music to my ears. I struggled immensely through recovery, but that blip befriended me and gave me, strength, hope, and encouragement. What I once thought signaled death, and demise was now the chant of life and renewal.


I learned something in that foreboding room, a "life lesson" you might say. For everything there is a purpose. For everything there is a time, like the almighty expiration date, each one of us is branded with. I will live through my brother. Hence, another will live through me. Just as the "fall" signifies death, the "springs" breed life.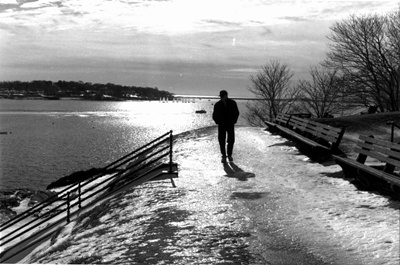 © Steve S., Marblehead, MA