Enemies
December 15, 2009
"I thought I told you that I never wanted to speak to you again," Beth said to Gina as they both tried to give the cab driver directions to the soccer field. It was their championship game and because they had stayed afterschool to finish up a math test, the both of them ended up having to split money for a cab.

"I never meant for us to not be friends anymore," Gina answered. "I thought that I could count on you for help." Beth couldn't help but widen her eyes at the last word "help"

"If you think that I helping you cheat would be "help", you are sadly mistaken," Beth replied, "How dare you even put me in the position in the first place?"

"I'm sorry, okay?" Gina said.

"I don't think you even know the meaning of the word," Beth answered. She then turned to the driver, "Why is it taking so long? We should have been there already."

The driver replied, "I'm sorry miss, but it seems like there has been an accident on the next block. It's going to take a while."

Gina said, "Why don't you just give me a break? I was having a bad day. Don't act like you never had one." Beth closed her eyes and took a deep breath.

"Why do you assume that you're the only one who has off days? It happens to the best of us. It still doesn't justify cheating!" Beth countered.

"Miss there seems to be some less traffic now," the cab driver said.

"Thanks," Gina replied. "Why couldn't you have told me this earlier in the morning when I asked you to help me with the answers?" Gina said to Beth.

"Honestly," Beth said, "I thought you were joking. Did you really expect me to help you cheat? In case you haven't noticed, I have moral standards." She looked at Gina when she said the last part.

"Look, this wasn't the first time that I asked you for help," Gina remarked, "Why didn't you say anything then? You've always told me "no problem" when I ask you for help." Beth got a look of guilt on her face.

"I'm sorry that I made you think that. It was just that you were my friend and I wanted to help you out," Beth said, "I never thought that it would go this far." Now it was Gina's turn to look guilty.

"I'm sorry that you're sorry," Gina replied, "Lets not fight anymore, I don't want to lose a friend over a stupid test."

"I know what you mean," Beth answered, "We've known each other since first grade, why can't we just make up and be friends?"

Gina happily answered Beth, "So, does that mean that you will help me with my English essay tomorrow?" Beth looked at her seriously for a minute and then burst into uncontrollable laughter.

"Okay," Beth choked out, "but don't expect me to do all the work for you"

"Of course not," Gina replied, "trust me, I've learned my lesson." She then took Beth and they both embraced like long lost friends.

"We're here," the driver said.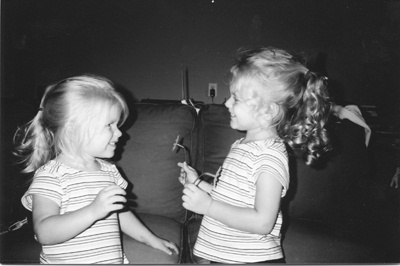 © Elizabeth S., Pompton Plains, NJ