Different
December 12, 2009
The day started out like any other day; wake up, eat, get dressed, the usual. For some reason, though, I got this strange feeling. I couldn't really explain it, but I knew this wasn't going to be like any other day.

As I walked to school, I could feel the moderately warm sun beat on my black Paramore jacket. My boy short, bold, blue hair gently swayed in the cool breeze and the grey pants I wore swayed a smidge since they were a little loose. The ends of my pants kissed the concrete with every step I took and my black converse were servants to my feet as they bided them forward. While I was walking, I passed a clothing store. I was struck with awe at the clothes in the display window so I stopped and peered inside it for a closer look. To my dismay, I was instead greeted by a pair of dark brown eyes. Soon, I realized they were my own and I walked away unfazed.

As I was walking, a huge, black limo zoomed by me and the water that covered the ground from the pervious rainfall was soon on me. I silently cursed the driver in my head and continued my pace. I mean, I couldn't do anything about it. What was done was done. I soon came up to the high school that was more like a prison, but I was always told that it was just me.

By the time I entered the building and came to my first classroom, my clothes were dry and I heaved a heavy sigh of relief. I slowly entered the classroom and the first thing that struck me was the message on the board that said, "Get out poems you wrote yesterday, we're reading them out loud today!"

"Why me?!" I said in my head, but I slouched over to my seat in the back of the class and pulled out the poem from my folder. Before I could even look it over for any mistakes, the principal came in. Behind him was a boy.

As they walked in, the preppy girls were swooning all over him. He had dark brown hair, ice blue eyes, and his face showed no signs of blemishes or scars. He was approximately 6 foot tall and he wore a light pair of blue jeans, a black t-shirt that hung loosely off his figure, and a black pair of vans. And he was skinny but not skinny as a bean pole, oh no. He was slightly built, but barely anyone could notice because of his baggy shirt.

I wasn't interested so I started to look over my poem when I suddenly felt that someone was looking at me. I looked up and I saw a pair of icy blue eyes that bore themselves into mine.

"Um…hello?" I said. My medium high voice was barely heard over every other voice clamoring for attention in the classroom. The boy that sat in front of me smirked.

"My name is Josh McLaughlin." He said. His voice was smooth and gentle, it made even my mind unfocused and fuzzy.

"What's your name?" He said.

"The name's Lexi Riverston." I said.

His smile grew and the teacher, Mrs. Hample, started class. One after another, classmates rose to the front of the classroom and read aloud their poems. Some were about hunting, others were about fishing, while most were about boys (since there were more girls than boys in the class). When it was finally my turn, I started to shake uncontrollably and Josh turned around taking my hand.

"It's alright, Lex. You'll be fine." He said. His blue eyes glowed bright with eagerness and I just couldn't say no. So I lifted myself out of my seat and made my way to the podium with my poem in hand.

Once I neared the other classmates I heard the words "devil", "witch", and my personal favorite "devil worshiper." Of course, I wasn't one but I was called these my whole life so I wasn't phased by them. I then reached the podium and I turned to the class. I peered into the back and saw Josh with a stern look on his face, not staring at me, but at everyone else. Apparently, the room was so noisy that it had to be silenced by Mrs. Hample.

Once the class was filled with silence, I began reading my poem.

"Different by…me.

Some may have golden hair,

and others have blue eyes so fair.

With bodies huge filled with joy,

and skinny focused on the cute boy.

With cheeks pale on unhappy peers,

and flushed red from crushes so dear.

Each human is different as physical goes,

but can we be different in minds enclosed?


Some may think they're better than another,

and that other may think of her mother.

With thoughts of death that may not be far,

neither is the thought hope in a new red car.

With thoughts of laughter that glow your soul,

thoughts of love may pop up like a galloping foal.

Each thought is different as minds can go,

but can we be different in emotions that show?


Some may feel sad and scared,

and others feel happy and cared.

With feelings of happiness one may smile,

another may feel sad with a frown from the pile.

With feelings of hope coming out to play,

feelings of despair appear at the dusk of day.

Each feeling is different as emotions go,

but can we be different in ideals we know?


Some may think this way is right,

but others think the other holds might.

With perfection in the rooms holding plight in its soul,

there is imperfection surrounding it black as coal.

With ideas so different and ideals so unjust,

there is no truth that could hurt more than impetuous lust.

With this lust for what is right in our clouded mind,

some may be thrown away because they were unfaithfully blind.

But I question you now with my soul's last breath,

why can't I have my different ideas and views till I die a peaceful death?"

As I finished reading, I heard only one noise…one clap…from one person. "Who's clapping?" I asked myself and I slowly looked up. When I looked, I saw Josh not only clapping, but he was also standing with a goofy looking grin spread across his face. Tears filled my eyes and a smile formed at my lips as our faces faced each other. No one ever clapped for me, no one. Then again, he was the new kid and he didn't really fit in.

Suddenly, the bell signaling the end of class rang. Everyone jumped out of their seats and ran out of the classroom. With the tears now spilling onto my cheeks, I slowly made my way to my seat and gathered my books. Once I did, I walked outside the classroom and found myself in front of a familiar set of blue eyes.

"Hey Josh." I said.

"Hey, what's wrong Lex?" Josh said while looking into my eyes. I just shook my head signaling a no, but that obviously wasn't enough for him.

"What's wrong?" He said.

"It's just that no one's ever clapped for me. No one's ever done anything for me. And it really touched me. So…thank you." I said.

"That's it? Well, I hope you know that there's going to be more of that from now on, and your welcome." he said as a smile grew on his lips. I smiled back and he grabbed my hand intertwining his fingers with mine. He started to walk off with me following behind. Then suddenly the thoughts of that morning ran through my head and I smiled. I guess that day was different than the rest, and different is definitely good.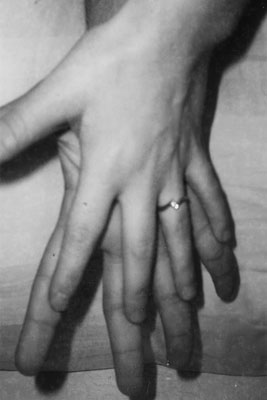 © Heather H., Phoenix, AZ