doesnt have one yet :]
December 12, 2009
Prologue


I can't tell you why my Mother left. Maybe it was me. Maybe it was my father. Maybe my sister. But whatever made her leave, I could care less.


I decided on my 10th birthday that I wouldn't care about that anymore. Yeah she was my Mom. Yeah I loved her, but she wasn't coming back. I had to except that. After six long years of accepting it, I pretty much forgot about her. Okay, that's kind of a lie. I do think of her every once in a while. But, wouldn't you? She left three days before Christmas when I was eight. My Dad was out getting the tree, he was always a little late on things. My sister, Victoria, sneaking pieces of the gingerbread house we made. My Mom, happily hanging the stocking on the fireplace mantel. And me, watching my Mom gracefully make the house festive. She was always good at making herself look lovely. Flowing around the room like an angel dancing on clouds. At least that was what I always compared her too. Her auburn brown hair let loose hanging down to her waist. Bright green eyes dancing with happiness. I always wondered why I couldn't be as beautiful as my Mother. It wasn't fair. And then it happened. I asked her.

"Mom why can't I be as pretty as you?." I asked. I thought her response would be like "You're beautiful honey." Something any mother would reply with. But no, she didn't respond. Her face dropped. She ran over to me and kissed me on the forehead. "Tell Vicky and your dad I love them." With that she walked towards the front door and lifted her hand, as if she were saying goodbye to the house, to her family, to her life. Then she was gone. When I think about it, maybe it was my fault.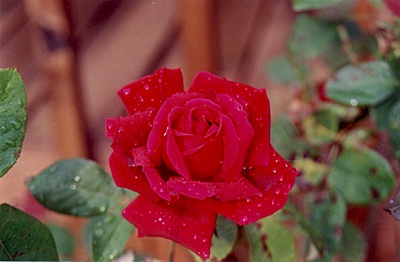 © Jami U., W. Hempstead, NY