The Incident
December 6, 2009
I've never had a boyfriend. I've never had a kiss. I only have one instance of anything even remotely similar, and I wish it had never happened.
I walked into band class knowing that Goldner, the teacher wasn't going to be there. Everyone in the class was socializing not listening to the substitute. Finally she and the T.A. Becky got us all settled watching the "Sound of Music." Only a couple of us were actually watching, I was sitting next to my best friend, Jessica, and on the other side was my friend Devon, sitting next to the most annoying guy in the class, Patrick.
Backspace!

In seventh grade I was five foot ten inches tall already. Yes, I was the freakishly tall girl. I was blonde and clumsy and had very few guy friends. Devin was shorter than that, by a lot. He was sort of chubby too, and he always used to wear this HUGE jacket that had designs and bright colors all over and it looked this it would be too big for a sumo wrestler.
I had two classes with Devin and I considered us friends. I mean we talked during class and hung out at lunch sometimes, but we weren't like… close.
Where were we?

At the end of one of those songs where Julia Roberts is singing, "AHHHHHHHHHHHHHHH!" and it goes on and on forever, I felt something warm on my shoulder. I looked at it and Devon had put his arm around me.

"Dude," I said, "What are you doing?"

Patrick burst out laughing and so did Devon. I realized that it was a joke and I started laughing as well. The substitute, who had fallen asleep, woke up and shouted "Be quiet!" She even had that crazy teacher voice that subs have in cartoons.

That story was retold a million times in the next couple of days. Then it was Friday, we were still watching the movie, and I was still sitting by the same people whispering some gossip in the ear of best friend, Jessica. There were some kids sitting in a cluster behind us, Courtney, Bre, Tyler, Amanda… they kept looking at me and then returning to their hurried whispers. Suddenly someone tapped on my shoulder.

"Karina?!" said Courtney, happily. She was probably the second most annoying girl in the class; I knew nothing good would come of talking to her. "You and Devon should go out!"

Me, being the socially stupid girl that I am, said, "Eew! I don't want to go out with him! We're friends."

Jess leaned over to me and said, "Come on Karina, you two would be so cute together!"

"No." I returned to watching the movie, forgetting all about the incident. Then I heard these frightful words: "Hey Devon, want to go out with Karina?"

"Umm," he said, "I think that she should ask me."

Jessica leaned over, "Ask him out!"

"I'm not going to ask him out for two reasons," I whispered, "One: I don't like him like that! I mean yeah, we're friends, but anything more than that would just be weird. And two: I hate it when the girl asks the guy."

"Just do it."

Dang, I wish I was more strong willed. I am not proud of what happens next.

They kept nudging at me and telling me to do it. Eventually I caved and asked him out, I would break it off with him tomorrow and everything will go back to normal. Boy was I wrong.

So I left band and we walked together until we went to different classes. We joked around like we always do, but he was more reserved, as was I. An hour later we passed in the hall and we hugged and that was the first time I had ever hugged him. My friend Jacklyn was all, "Eew, why are you hugging him."

"You hug your boyfriend," I said. At the time Jacklyn was dating this total pervert, Ty.
"What? How does that have anything to do with you hugging Devon?"
"We are together as of 2 hours ago." She approved of that.
After school we texted about how awkward it was to be dating each other, But it was the weekend and I went out of town.
Finally on Monday, I decided I was going to break up with him in sixth period. So I walked in put down my stuff and started walking towards him.
My friend Tyler stopped me. "Hey Karina," he said, "Devon told me to tell you something."
"Actually I need to talk to him right now can it wait?" I asked.
"No, it's kind of urgent."
"Okay, shoot."
"Devon says that it was a mistake to say yes to you," said Tyler, "He's breaking up with you."
"That's what I was going over there to do."
"Then that works out then."
December 2009- NOW
I don't think Tyler ever told Devon about what I was coming to tell him. He thinks that I really liked him as more than a friend. That week made everything so awkward that he hasn't said a word to me since.
I couldn't stop thinking about him for weeks and I still find him in my thoughts. I guess I was glad to have a boyfriend, but I have no feelings except annoyance for him. HE couldn't even face me to break up with me.
I don't count it as actually having a boyfriend because it doesn't count. I saw him 5 times in the course of three days, and only texted him for a couple of hours. I miss my having him as a friend though. I wish we could send it all back to before that little incident.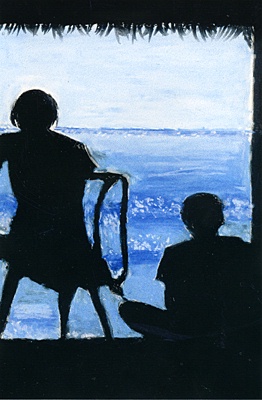 © Julia S., Haddon Heights , NJ