Hiraani's Oahy
December 5, 2009
Slapping waves were soothing, the breeze was soft and the cloudless blue sky was gorgeous. It was a once in a lifetime sight you'd ever be able to see. Not distant the crystal water was two trees with pure green leaves that gave a perfect amount of shade. A hammock slowly swung below, ivory and comfortable. 12-year-old Hiraani was sleeping within that hammock, her olive-toned legs crossed and her arms behind her head, savoring this perfect day. A yellow and pink flower, once in Hiraani's hair, was now in the sand below her.

Ewa Beach was her favorite spot, it helped her think and want to sleep. She loved her home and never wanted to leave.

Hiraani! Hiraani! Come, my sister!" Her eyes shot open from the voice in the distance. Kale, Hiraani's brother, seemed frightened. "My sister," Kale huffed, sweaty and only wearing swim trunks. "Hurry, Father has been arrested." Hiraani stepped out of the hammock. "Aunt has instructed for us to leave the island with Kai, Kaloni, (Hiraani's cousins) Kinipela, (Kale's wife) and herself. We need to go home and pack, while Aunt attempts to free Father. We must hurry, there's no time!" Hiraani started a run and Kale ran right next to her until they hit the medium-sized house that was there. It was a beautiful home, but it would not be hers for long.

Hiraani climbed the ladder to enter the front door, the house was quiet. After a moment, laughter was heard upstairs and Kale headed that way. Hiraani followed him and the laughter grew louder. Kai and Kaloni were playing with toys, having fun like children should. Kai was a tomboy; she was friendly and outgoing with one small braid running down her neck. Kaloni had long, brown hair and deep brown, almond eyes. They jerked their heads towards Hiraani and Kale and put curious looks in their faces.

"Pack your things, little ones." Kale said grabbing suitcases. "Everything that you cannot live without," Hiraani said. "Hurry." Hiraani then walked out the door into her own room to pack her things. Her room was small, nothing fancy nothing special. She slept on the floor like the rest of her family and she didn't ever really use electricity. Her closet was carved from wood and held her clothes and belongings. The small backpack she had, surprisingly, held clothes to last a week. She put on her mother's necklace, the necklace she loved because it was her mother's. All she had left of her. Hiraani threw on some running shoes. Then, with no mirror in her room, she decided she was ready to go.

She walked out the door and looked for Kale. Apparently Kale had located his wife, Kinipela, and told her what happened, she was packed and ready to leave as well as Kale himself and our cousins. We all headed out the door. "Aunt told me to wait for her at the jail and that there was a friend named Akamu that would help us get there. He works at the 'Hawaiian Breakfast' in town, she said it's easy to find. Let's head into town." Kale had instructed and the rest of the group right behind him. He knew the way and they all trusted him.

They were all in town ten minutes later. They searched for the 'Hawaiian Breakfast' and it wasn't far from the entrance of the town. "Stay out here let me find him." Kale had told them and Hiraani sighed. "Fine." She said. Hiraani looked around the town she never really came to often. Kai had peeked inside the restaurant and was looking for her beloved cousin, Kale. Hiraani saw her and pulled her shirt back to where she was standing before.

The next thing I knew was quickly being introduced to the fat, tattooed Akamu and heading our way to Honolulu's International Airport. It was a long. Bumpy ride. They all were able to fit into a vehicle called a 'jeep'. Then, on Hiraani's personal favorite type of travel, they took a boat. They were soon in the airport and then on a plane to Maintirano, Madagascar.

They all hated the traveling plane. They were a low class and disliked the terrible ringing in their ears. They arrived in a small, empty airport on an island not far from Africa. It was an Amazon beauty. Hiraani and her family had found their 'parent', Keani, and gave her a warm welcome. She waited at the exit with presents for them all.

"Hello, my little ones!" she said. "I have gifts. Would you like them?" They all showed their excitement. Kale and Kinipela received love bracelets, it was a special ritual that when you wear them you will always know where the other is at. Kai and Kaloni received a time watch that could split in half. And Hiraani received a letter. Just a letter. But, somehow, it was way more special than any of the other gifts. She was handed a plain white envelope with her father, Kapena's, handwriting upon it. It said Hiraani. It was sealed shut. She opened it and it read,

Hiraani,
Please take care of your cousins and brother, you are a leader. Take advantage of that fact. I will not lie; I won't be able to see you again. I leave you this necklace, it is now me. I have placed my soul within it. It is now with you. Take care of it.

All my love. Your Father, Kapena

Hiraani located the necklace inside the envelope, it was a locket. It held a picture of Kapena and Alamea (Hiraani's mother) inside of it. She put it on automatically and headed towards Keani which was already in the forest. Hiraani walked until she located a boy and a woman. She was introduced and became acquainted. The 20-year-old woman was named Rozene and the boy's name was Alair. They became good friends and Rozene and Alair brought the family into their home. They walked in the forest for another 10 minutes before they saw a house made of dark bark and leaves from trees, a lot of different trees. Hiraani was talking to Alair about Rozene's home. "Would you like to meet my sister, Selina?" Hiraani's eyes lit up and she was happy to meet a new person. Alair had walked into the bamboo- made door and called, "Selina! I have someone for you to meet." Apparently, Selina was the girl who anxiously ran down the steps staring at the floor to prevent an embarrassing fall to the floor. Selina had light brown hair with dark eyes and a young expression. She was wearing a quite unusual dress with interesting and gorgeous designs on it. Hiraani smiled. "I love your dress. Where did you get it?" Selina giggled. "I made it." Her voice was sweet and polite. She looked at her bare feet humbly. Hiraani was surprised, the girl seemed seven. "It must have been difficult to make." Selina smiled happily. "Alain, your girlfriend seems nice," Selina said to Alain. Hiraani laughed. But from the corner of her eye she thought she saw him blush hysterically. "Not really, I make all my clothes. We all do." Hiraani was impressed and excited to be able to do that herself.

"Alair!" A voice called. It was Rozene. "Dinner time! Bring your friend and Selina." Time flies when you're having fun. Hiraani walked outside with her new friends. Everyone was seated under a canopy made of dry leaves and wood. Rozene was at one end of the short table with no chairs; everyone was sitting criss-cross. A man that Hiraani did not know sat next to the pretty brunette woman, Rozene. Hiraani choose to sit in the empty seat next to Kaloni. The objects on the table were fascinating. Hiraani didn't think she had a right to call it 'food'. They didn't look appetizing but her stomach grumbled in disagreement. There was a giggle from the end of the table; it was Alair. "Let's eat!" Rozene said proudly.

Rozene's family dug into the 'food' anxiously without hesitation or plates. Hiraani family stayed still. The stew was bright green and disgustingly bubbly. The fried creatures were on sticks, eyes visible and apparently edible. Hiraani's family looked for so went something at least a little bearable unappealing. They were all able to find something. Table conversation went smoothly, for Rozene's family. Hiraani's family was quiet until Rozene asked Keani, "So, Keani, do you have a husband?" She asked politely. A few heads turned but Vernill, the mysterious man, was more interested in the discussion. "No, my husband, Kanoa, died long ago." Everyone was quiet. "I'm sorry, my dear. I know what you are feeling. My Sebastein was killed not too long ago." It was quiet for awhile except for the children's whispers. "Anyway," Keani said, trying to lighten the tension. "Your children are all beautiful." Rozene smiled happily. "All of yours, as well." Keani frowned again. "Only two of them are mine," Rozene sighed. "Hiraani and Kale are my niece and nephew. Kinipela is Kale's wife." Small conversation flew around the table carelessly. "May I ask," Rozene said shyly. "What happened to their parents?"

Keani didn't seem to mind. "They disappeared." Hiraani's eyes and head shot up. Kale stared at Keani almost angrily. But they weren't mad, just shocked at Keani's lie.

The day ended beautifully. Rozene and her family invited them all to a bonfire and they danced, and sung and told of Maintirano's historical stories all by the moonlit water. It was a new life for Hiraani and Alair. They both met a great, new friend. Hiraani made friends in a brand-new place she loved and respected. It was her new home. It was hers now. Hiraani forever wore her mother's crystal necklace and her father's locket around her neck to show she forever cared; it showed a sentimental value that was beautiful. Vernill was a kind man and provided Keani for her and her and the kids in a perfect spot by an abandoned beach not far from them. But they'd never be far from their hearts.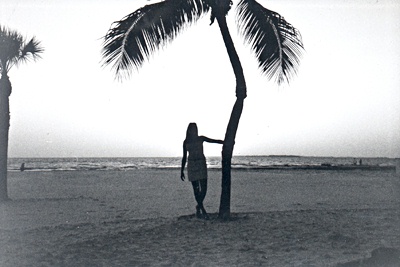 © Kim B., Marblehead, MA