Watching.
November 27, 2009
He dropped his hat.
It wasn't a particularly special hat, certainly not worth more than a glance if you were to pass it by on the sidewalk, barely even noticeable if you weren't the perceptive type. Slate grey and slouchy, it was the kind that you have just to keep in your coat pocket should the wind tickle pink the tips of your ears and nose. It could have been from anywhere. He might have bought it last week at the mall, or he could have had it for years. It might have been his best friend's, borrowed indefinitely, or maybe a gift from his girlfriend. He could have found it lying on the sidewalk and picked it up, for all I know. His gloves, without fingertips, matched it. Now that I think back on it, so did his scarf, tucked into his navy jacket. He carried a messenger bag, dark brown, over his left shoulder. Square, black-framed glasses accentuated celery-green eyes. The glasses didn't make him look intellectual, or sophisticated, or anything other than himself.
He looked absorbed in his own mind. Not quite worried, but pensive and thoughtful. He looked intriguing, quiet, artistic. He might have been a musician on his way to a set, or a poet on his way to the nearest coffee house. Whoever he was, his hat was still lying dejectedly near a gutter on the sidewalk. I could have left it there to be soaked in the rain, frozen over night, covered in frost by morning. I could have left it there for a stray dog to pick up. I could have just left it there and forgot about it.
I picked it up.
I had every intention of giving it back. He wasn't that far ahead of me. I had every intention to walk up to him and just hand it to him- no words, no eye contact, no thought. I had every intention, but I became wrapped up in my own thoughts. He might have meant to drop it. Surely he would have noticed the weight of the hat missing from his front right pocket. He might not have wanted the hat anymore. He might have been making a great humanitarian effort by dropping the hat for a homeless person to find and use in the cold months that were approaching. Then again, he may have needed the hat. Within its stitching there might have been a story or a cherished memory that would forever be lost on me because it wasn't my hat.
He was much farther ahead of me by then. His hatless head was buried into his chest, the collar of his jacket flipped up against the wind. Though fire-tipped leaves were dancing through the air and the sun was beginning to set, he didn't walk any faster than before. He was just walking, looking down at his feet. I imagined he was looking for something far more important than a hat in the cracks of the sidewalk- chords for his next song, words for his next poem, answers to his perplexities.
He stopped, and so did the world. Everything was silent, still, serene. He looked into the sunset against the silhouetted buildings in the distance. He smiled. It was a good smile- lips closed, a little sideways. He'd found what he was looking for.
And the hat was in my pocket.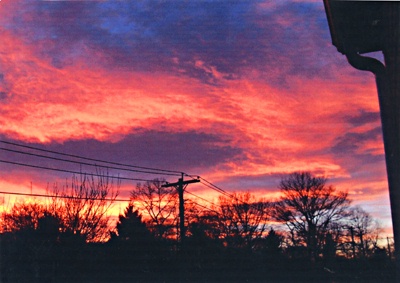 © Robbie M., Milford, CT