Forever...(Chapter 1)
December 10, 2009
"Mac!" My mother called. "Let's go, we're going to miss the plane if you don't hurry," She sighed. "Goodness. I do not know where I got you from."
She was making fun of me because I was four times slower than her. I couldn't help that she was like the faster version of Jesse Owens.
"I'm coming, Mom. Cool it." I answered her back in a sarastic tone. We always loved to mess with each other.
My mother's name is Ariel, which I call her without telling her. She is very old fashioned.
We were leaving our lavish manor in Philadelphia, Pennsylvania (I called it our big sandwhich town. I don't know why, I just do.); and are moving to a little place in Washington D.C.
We didn't need so much room since my father died. He left us im a train accident. Every night before I went to bed, I hear Ariel crying. I knew that she was thinking of him. The accident was only eight months ago, so i got pretty banged up also. It was on my sixteenth birthday.
I actually have one of the hardest stories to tell. I heard my father die. He was wishing me a happy birthday and there was a loud bang. The phone went dead and that was that last time I ever heard from him.
Oh right, I forgot. My name is Mackenzie Reynolds, Mac for short. And I might just like Washington D.C.
I think.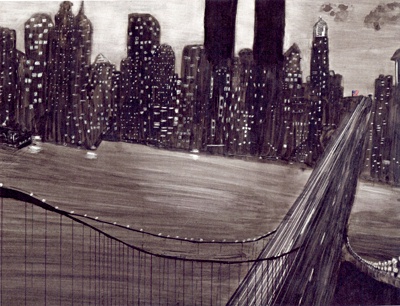 © Breanna Lea B., Richmond, VA