Affliction part 4
December 8, 2009
I walk down the hallway on the second floor and into Karolynn's room. But it's different, I can't put my finger on what but something has changed. There are two doctors instead of one, which confuses me, and they look worried. Then it hits me. I tell myself, no, this can't be it! NO! Tears force their way down my face.
"You're taking her off today, aren't you?" I ask though it's more of a statement. Their heads turn in surprise.
"I'm very sorry, but we can't keep her connected any longer," one of the doctors replies solemnly.
"She'll be taken off tonight," adds in the other one. "So I suggest you let close friends and family know. We were just about to call your parents to inform them. I'm so sorry."
I can't believe it. I'm losing my closest friend and sister. The most horrible feeling that no words can describe envelopes me. I feel like someone just punched me in the gut and knocked all the wind out of me. I turn around and walk out of the room.
Once I'm out of the hospital, I take out my cell phone and call Nyki. Placing the speaker next to my ear I listen as his phone rings endlessly.
"Hello?" he finally picks up.
"Nyki, I didn't know what to do. They're taking her off life support tonight. My parents aren't home yet, I'm sure they know. I can't lose her, Nyki … Oh why did this have to happen to her?! Why couldn't it have been me?" I let the words spill out in a rush of jumbled thoughts.
"Hey, hey calm down. I'm coming over. OK? I'll be there in a few minutes. Just try to calm down," Nyki replies.
I take a deep breath, "OK, see you then. Thanks."
"Bye."
I hang up and stuff my phone back into my pocket, wiping away at the tears wetting my cheeks. Slowly at first, I begin to jog back to my house. I go through our friendly neighborhood and past all the trees that are just beginning to have hints of color on the leaf tips. Letting my mind drift I see shadows of us as little kids, playing along the streets. When we had no drama and no groups and we had no idea what cancer was. I let a smile creep along my face.
I walk up my driveway and to the front door. Reaching into the potted plant on the windowsill my hand finds the cold metal of the spare key. I pick it up and unlock the door. Before I step in the door I gently place it back where I found it.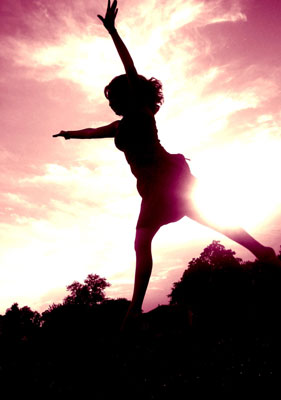 © Martha V., Morton Grove, IL