The Unbelievable
November 30, 2009
An angels grace,the most beautiful face.Not a bad ghost yet it huants me dreams.I close my eyes and befor me is the face.Eyes like the ocean at the middle of sunset.Everything still,silent as the world begans to go to sleep.Innocent the world becomes as everything sleeps.A boundary not set to her personality as it has endless amazingness.From Eygpt's pryamaids to Rome's colosseum she is the greatest wonder of them all.My breathe took as if it was tribute to her beauty.Words can not depict how truly and undeniably amazing her beauty is.One of God's creations and no painter or writer can even come close to describing it or drawing it.Only God could make something so breathe taking.
So easy it is to become lost in her eyes.It is like staring at the stars.A whole other world where everything is perfect.Her words most enchanting to the ears.Her voice alone could drown away all sorrow.Her touch can mend all wounds even a broken heart.The thought of her alone can change the world.
Not only is her beauty unmatched,her gift is more amazing.Words flowing out of her mind like a stream of life to all mankind.Enlightening and pure as if her body and thoughts are purged from all evil.Words that bring such a peace to any dark oblivion.
So wonderous it does not seem real.Then befor me she stands.As real as the unforgivingness I rain upon myself for letting her get away.The one who can work miracles with her pressence whether she is in person or just a thought.The unbelievable.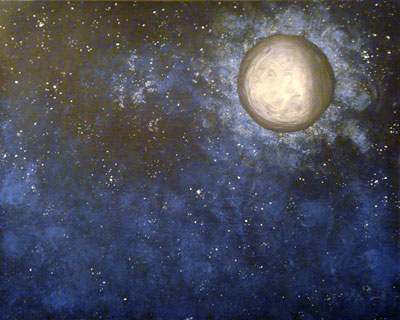 © Allison H., Vancouver, WA