Return To Sender
November 21, 2009
It ended with box. The box was ordinary, brown, and over-taped, sitting on the doormat outside my dorm room. I stooped low to scoop it into my arms and read the upper left corner of the mailing label. It was from my girlfriend. My heart pounded a little harder in my chest as I unlocked the door and settled the box onto the table, discarding the other items I was carrying onto the floor without much thought.

First, I would need to slice the tape open so I could get inside. There were no box-cutters, so I used my car key, sliding along each edge with a moderate force until I could yank on the flaps so that the box was opened. A letter wasn't the first thing I saw, like I normally would. This worried me slightly. She always left a letter on top of the care packages she sent me.

The contents were simple snack food staples, such as pork rinds, Tic-Tacs(which were always short of supply in the guys dorm), marshmallows, various bags of potato chips… something, besides the missing letter, was off. It took me a moment to realize what that was. Tucked away in the corner of the package was an unsealed Pringles can. I pulled it from it's snack food prison and cracked the clear lid off, sniffing slightly. It seemed to be safe, and it was my favorite flavor, so I devoured them.

The further and further I made my way down into the can, the more I could make out that something was written on the bottom of the can. This made me merely scarf down the chips faster, until I reached the silver circle inside the base. It's over! Goodbye Loser! Don't call me. Xoxo Sarah It was written in a thick, glittery, black eyeliner.

I sank from my feet to my knees, staring hard at the carpet, feeling as though my heart had literally been ripped from my chest. Sarah had been the only girl I was ever serious about. We met when I was a junior and she was a sophomore. I thought we would still survive even though she was still in high school and I was at the state college…up until now. This could only mean that she had found someone else, moved on, booted me out picture. It was hardly fair.

It was then I realized if she was willing to break up with me by a note on the bottom of a Pringles can, then she had to of had a cold, callous heart. Not worth pursuing, at least in my eyes. I rose back to my feet, threw the Pringles can back into the box, and resealed it. Then I grabbed a thick black marker and wrote RETURN TO SENDER just under her name.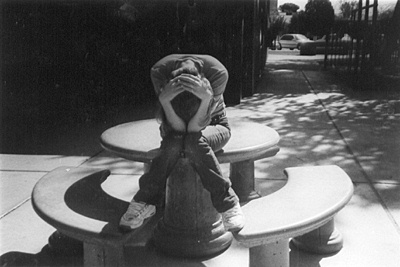 © Catherine R., Phoenix, AZ