Shatter My Memories
November 18, 2009
Falling from the sky, down onto the rich soil we used to frolic upon, my memories shatter upon impact. They don't break like glass, however. These memories won't be small fragments that I can put back together. These memories shatter into undetectable crystals never to reunify again.
The echo of your laughter is dispersed by the sound of construction. Change seemed to overtake our small forest when you disappeared.
From what I can remember, you and I enjoyed our childhood together. It was fun while you lasted. It was fun while It lasted.

Never again will we jump across the trees,

Never again will we search for the hidden treasure,

Never again will we pick those purple and yellow flowers; your favorite flowers.

Worst of all, never again shall I witness my own childhood, dancing in front of me. I can't feel that nostalgia.

That nature we used to love so much- is gone. Did you take it with you when you journeyed into that new life?

I will always dig deep into my past and try to remember. But without You… Or without It… a deeper haze will always obfuscate my mind.

What we used to call our secret garden has altered into a concrete maze.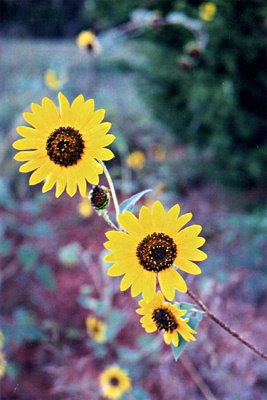 © Megan B., Luther, OK