All the Time
November 24, 2009
Sitting in the cramped and colorless confines of the dimly lit hospital room, watching his chest rise and fall with each labored breath, I listened helplessly to the roaring silence that mocked me as it begged me to consider how permanent that lack of sound could become before the long night's conclusion. The tension born of unspoken words and poorly hidden worry that had earlier charged the air with a crackle of electric current had departed abruptly with the rest of my family; gone home to their lives while I waited behind, afraid I might be the only one left to witness the end of his.

For as long as I could remember I had been the strong one, priding myself on my ability to overcome or ignore emotion and practically confront any situation with a calm head and analytical mind. Up to this point that had been my role in everything that had happened over the past few months, watching from a safe distance as he stubbornly battled the cancer that was cruelly stealing away his life like a stealthy thief on the darkest of nights. But as I sat there, pulling my sweater more tightly around me despite the relative warmth of the small room, I glanced up. What I saw melted the numbness that had frozen my heart for so long, and broke the cold shell of tight self control that I had built up around myself to hide from the world, brusquely tearing away the rigid mask of suppressed feelings that I had so long believed to be an impervious disguise.

The clock I beheld appeared to be like any other clock in every obvious way. Utterly unremarkable, a standard, black and white circle with two hands moving perpetually in a synchronized pattern that was as inescapable and eternal as time itself. As I gazed in consternation at this simple, completely common thing, I was overcome with the inexorable impression that it was trying to tell me something; something more important than anything I had previously learned or ever would come to know. The clock stared back at me with limitless depths of wisdom and sadness in its timeless glare, and spoke to me in a whispering language, every nuance and inflection ringing through my very soul. In a voice that had spanned innumerable centuries and simultaneously embraced the unknown intricacies of fractions of a second, the clock that was so much more than just a redundant timepiece helped me to find peace with time.

The reality was, time would never stop ticking. Never slow down, speed up, take a break, or desert us completely. It is nothing more or less than it ever was, and it will never change, but what we do with it has every power to change us. Never sadistic or manipulative or cruel as the bitter poets cynically portray it; time simply is. It was counting down the last moments of his life, but there was no rush or unnecessary hurry and anxiety, no subtle or malicious act of thievery involved.

I realized then that, just as the clock had taken my hand and gently but firmly shown me truth, so too had I reached out and taken his hand in mine as he lay there in the impenetrable stillness. Now as I gazed down, I saw not the face of a dying man, but the face of time. And as I leaned closer, he opened his eyes slowly and gently whispered, "We have all the time in the world".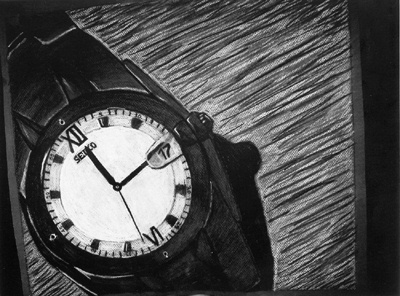 © Rachel U., Danbury, CT