To Whom It May Concern
November 21, 2009
To Whom It May Concern,

I know you don't know me, but I don't care. I just have a few questions, and I need you to answer them like the person you should be. Be brave, and maybe we'll all come out of this alive.

Question one is, Why do people cry tears? No, I don't want a scientifical explanation, I want to know why people give into the weakness of the tears. I know that all they are made up of is salt water. I know that they come out of great sadness or anger. Mine come out of anger. Why do you cry? Heartbreak, distrust, betrayl, love, rejection, someone misunderstanding you? Just pain?

I'm interested in how your mind works, unknown person. Is it like mine? Do you suffer from a great deal of emotional pain? Do you wish to scream at the top of your lungs in the middle of the most busiest streets? Do you think the only escapes are dreams and music? Are your thoughts cynical, negative, and full of distrust?

You can trust me, unknown wonder. I will keep all your secrets, I promise you. Caution, you may fall in love with this broken soul. Another question has just sprung into my mind.

This thing called love, is it true? This is where I'm trusting your answer, unknown soul. Is it just an imaginary emotion so many claim is true and real? Or is it what people yell about, think their heart is broken about? So far, since I am young and unwise, I think love is a beautiful myth everyone wants to believe. Like Santa, or maybe The Lost City of Atlantas?

I'm walking on wires here, unknown enemy. I'm asking you questions that you may lie and scoff at. I'm trusting you, is this a bad idea? I think so. But I'll keep walking these wires. I don't care if I may fall, it's worth it. To get to the other side, to see these answers that I hold my life to. You understand why I don't care about this possible death, right?

So unknown darling, do you think heartbreak is possible? That every human being is capable of this so called heartbreak. I think my heart is broken. But before you claim that it was the so called beautiful myth of love that did it, I've never loved. Remember it's a myth. My heart was broken before I could live, my dear sweet darling enemy. I'm a child that was forced to grow up. If I could I would escape to the beautiful fantasy of Neverland, I would.

I'm clenching my fists, my knuckles are a deathly white. My eyes are widening in fear, and I think I feel the possible sting of traitor tears. I am falling. I don't know where I'm falling to. Maybe you could answer this too, unknown person wonder, the sweet darling soul enemy. Maybe you could possibly guide me through this hellish life we all live in. With death, illness, poverty, tears, greed, envy, jealousy, heartbreak, and the beautiful myth of love, I understand why so many die young.

To whom it may concern, I trust you fully now.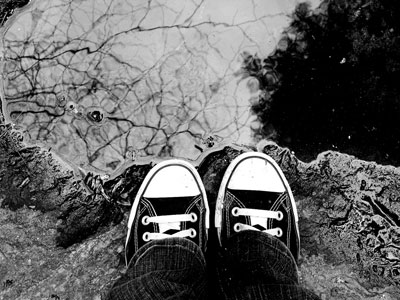 © Michelle B., Blairsville, GA