Blue Years
October 24, 2009
Summer, 1999


It was an ordinary sultry summer morning when the bright orange and white moving van pulled up across the street. I craned my neck to watch as you stepped out of the passenger side, along with a petite young woman. We were young then, barely seven, your eyes were a playful light blue and a childish smile danced on your lips.

We instantly became friends, spending long summer nights catching fireflies and listening to the sound of the crickets on your porch.


Fall, 2006


The leaves began to fall and the autumnal shades of the trees greeted us as we started high school together. You were unnaturally tall for fourteen years old and I teased you mercilessly. We spent fifth period lunch together, taking long walks around the school, soaking in the sights around us, feeling like adults.

You tried out for football. I tried out for cheerleading. You brought me a pint of Rocky Road when I cried about how awful my tryout was, and I celebrated with you when you received your black and red varsity jersey.

Homecoming came, and our team won. The night of the dance, I waited for you to appear at my doorstep, offering to take me as your date. You never showed, but later sent me a photo of you and Amber, blond and beautiful Amber, in your matching pink and black outfits smiling as if nothing else in the world mattered.

I cried myself to sleep that night.

Winter, 2008


Junior year. We were still neighbors, but your heart lived somewhere else. You and Amber were planning on going to school in Georgia, a million miles away from here. You told me your future plans, of a football career, and of your happy family of blonde mini-Ambers, you wanted all daughters.

I spoke briefly of my dreams of going to art school in New York, and you interrupted me to speak of the winter dance, and how your new black tuxedo matched perfectly with Amber's frosty winter ball gown. You spoke of your love; you spoke more of your plans. When I noticed how stony cold your eyes were I walked away.

Spring, 2009


Graduation sprung upon us. You were excited, so excited, to leave New England. Your mother called me the night before your departure, to ask me if I thought you were happy. I told her a solemn, "Yes," though my heart screamed, "No!"

She saw right through my lie, and advised me with words I will never forget, "Love won't wait forever."

I gulped down my pride, clutched my composure, and found myself searching for you at the train station the next morning. You sat on a bench, your faded brown suitcase against your leg, your hand barely touching Amber's as she played with the fringe of her skirt.

I screamed your name, shouted it over the chatter of the crowd and the whistles of the trains. You heard me, you looked up, and your eyes met mines.

You ran to me and I smiled at your embrace. My emotions bubbled over, "You can't leave."

"I couldn't anyway," your warm hand grabbed mine. I looked up into your eyes and felt a happiness surge from within me. My mind began to race, and I saw us years ago.

Fireflies.

Fall leaves.

Rocky Road ice cream.

And then your eyes were blue again, a playful light blue.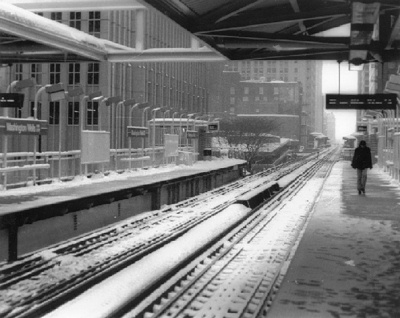 © Karen P., Amherst, NY