Fireflies Part 1
November 11, 2009
I drove in my car with Tori. Still at seventeen we were best friends. Our "Best Friends" necklaces hung on our wrists since we out-grew the chains. She chattered on about Hollywood gossip, high school gossip, and in general other people's problems. She often tried to avoid talking about her problems and would talk about which celebrity is in rehab this week.

I almost drowned her out. I had enough problems to worry about. I nodded a bit and shot a quick glance over to her to give her the allusion that I was listening. My mind was off in my world of problems.

I was tired and could barely keep my concentration on the road. It was a straight road but my shaking hands made the car swerve. I was running on coffee and two hours of sleep.

I must have been in a dream-like state. I remembered nothing. I reluctantly closed my eyes and thought of everything that had happened in the past week. The fire and the running ran through my head.

"Hayden!" Tori screamed through my waking-dream. I realized my head was on the steering wheel which Tori was grabbing. I looked through the windshield. I was off the road and flying into a tree.
I think I screamed simultaneously with Tori. I tried to grab the steering wheel but I couldn't seem to grasp it. Tori's screech broke my ears. I fought for control of the car. I couldn't win.
I closed my eyes and gave up the fight.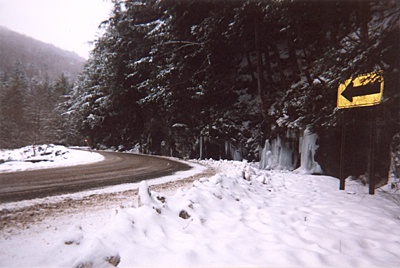 © P.J. McC., Hull, MA