Monkeys on a Boat
October 22, 2009
The monkeys were grumbling over their last cigarettes slowly growing irritable. One was punching the van on our way to work, after finding out the last of his money could not be spent. The others were pissed, but happy to bring another to their level. Tomorrow would be better. We will get paid, and the mood would be uplifting. We'll be a brotherhood again. One encompassing all of its underlining problems of treachery and jealously. I avoided the clouds of smoke and spent the remaining minutes of my time alone. I could never understand them. They spoke among themselves, making plans. 

"I'm getting out of here."

"Yeah, you say that every week."

"It's different. I've been saving money."

"How? We barely cover rent with this."

"I invest it. I've got this whole thing planed. My friend is going down to Mexico. I just lent him enough to start up."

Most of them laughed. The ones who refrained understood their situation and failed to see the humor.

"Well then, what's your plan?"

"Compensation."

"For what?"

"Work related injury."

"You're not injured."

"Yet."

I found it's much easier with no plan. The papers fill up in the designated places, and, in a half daze, my hands move while the things behind my eyelids remain stuck in the off position, mimicking what lies behind them. The papers and the fingers, the white and the ink blur. My signature lies on the dead paper bodies that lie in a haphazard wall The gathering of hollowed minds and empty words acts as my alarm clock. I get to leave.

"You missed the point of the exercise, describe your life. It's not..."

"It's not the papers, my job, or the random ticks that wake me from it.  My life is like a boat. And it's all perfect the sky, the waves, and the breeze. My family. I have a family. We're just sailing and sailing… until something happens. I don't know what. I just know it's night. The moon is glowing brightly as I look over the balcony. I'm drinking in its shine, overwhelmed by its unbiased, all seeing stare. Until the sky is swallowed by the thing it was suppose to hold. The water reaches me and it is cold, so very cold."

"What do you think the boat means?"

I'm in therapy. I failed to mention that because it wasn't important. Just a fact like my shirt color, gray, or my shoes, black converse which unlike the other facts are important. They, after all, got me out of there.

"Where are you going?"

"Nowhere."

Just like the boat, and if it's not going anywhere it doesn't mater if it sinks. Better yet why start the voyage at all?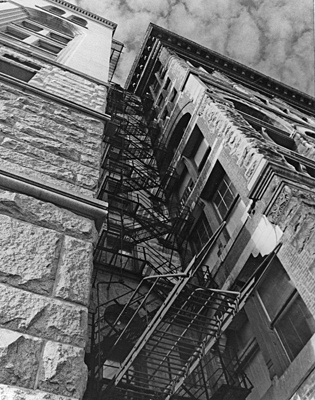 © Eric H., Lafayette, IN