The Locket
November 4, 2009
I stared down at my hand in disbelief as if it made any difference if I missed him or not. He was gone and there was nothing I could do about it. I clutched the silver locket in my hand, and took a deep breath in, to stop the tears that were slowly making their way down my cheek and dripped on the locket, that was now laying face down in my open palm.

I turned my head against it, blocking it out of my view. It was just to painful. I slowly looked up and started walking through the woods, not caring that it took me 20 minutes to take just one step. I didn't care where I was going either I just let my feet lead the way. Finally I reached a small meadow, with a stream going alongside by the crisp pine trees.

I stood on the edge of the rushing water and stared at the stream for a while hearing the small plops that the rushing water made and felt the breeze of the cool autumn wind against my skin.

I finally opened my hands and held up the locket. It was a small silver heart with a tiny red sparkle in the center, that if you looked real fast didn't even notice but if you took the time to look carefully you saw it. It was dangling on a silver chain, not to long and not to short. The inside didn't matter anymore, well at least not to me. Because if you unhook the tiny latch that held the heart closed you'll see a picture. A picture that was taken just a year ago, and seemed so silly now.

I looked down at my feet rustling the few leaves that had already fallen. I took a deep breath and looked at the locket on last time, my eyes started to get red and watery at the sight of the picture. It was of my "dad" holding me safe in his arms and smiling at my mom holding the camera up to snap the picture.

Like I said that was a year ago and things, well things changed. My dad abandoned my mom and me a couple of months ago, for not reason at all he just packed up his stuff and disappeared without a single goodbye. I just woke up one day and found my mom siting all alone at the kitchen table staring at her coffee "wheres dad?" I asked.

"um.. I don't know Katelyn.." came my moms broken voice. I never knew why he left all I know is that he did.

I Shivered as I remembered my moms heart broken response, she never told me why he left just that he did. I don't even now if she knew herself, and if she did why would she keep it a secret from me her daughter? I pushed those thoughts out of my mind, my mom would never keep secrets from me I told myself over and over again.

I looked down at the stream and then back at my locket. I gathered the silver chain up in one hand, and reached my arm over my head, I took in a couple more deep breaths and threw the silver chain, with my broken heart into the stream. It made a small splash and slowly sank to the bottom of the stream.

I crossed my arms and slowly began to walk away leaving my necklace and what was left of my father behind.....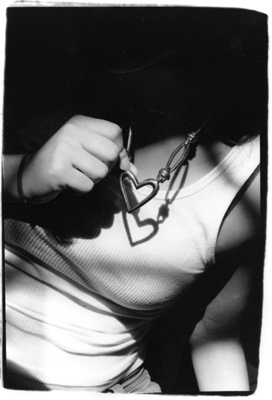 © Julia R., Bethesda, MD