A Sheet of Glass
November 3, 2009
The car ride there was full of emotion. Music played and conversation was strained as the passengers struggled to keep the mood lighthearted. In the backseat were two teenagers; Colette and Avery. They sat close to each other and talked earnestly, trying to savor every moment they had together. Throughout the ride, Colette's mom and sister visited while she and Avery tried to avoid the obvious.
The car zipped along the highway, full of suitcases and people not wanting to say goodbye. Avery's hand brushed away Colette's tears as he tried to comfort her sadness. His fingers were soft but his nails were raw and bitten far too low. With this action, Colette thought back to when she first saw him. Walking into the geometry room, she came to find a boy with long brown hair sitting in her usual seat. Colette, who is extremely friendly (especially to new kids) was instantly intrigued. As Avery stood up to ask the teacher a question, she took in his tall, lean frame, and handsome, tan face. It took Colette two days to get up the nerve to approach him, but when she did, it was worth it. She greeted him with a friendly voice and he answered her just as sweetly. They instantly hit it off and spent the next couple of months inseparable.

Avery slowly revealed his home life, which wasn't the greatest. It consisted of him constantly watching his younger siblings, cleaning up around the house, and then getting verbally abused by his mother, who ordered him to do all of this. Needless to say, he didn't have a very good childhood. As Colette learned these details, she was astonished that someone who never been loved as a child could be so loving himself. This made Colette, who had grown up in a home full of hugs and compliments, cherish him even more. Avery then got to know Colette's family and was welcomed into it. He seemed to be given the caring mother he never had, but always yearned for, and people who really supported him.

Their friendship blossomed into love and they became more and more attached to each other. They enjoyed being with each other whenever they could, but their favorite meeting place was in the grass behind her house. Sitting on the soft, green ground, with the wind blowing around them, everything seemed to be right. Time stopped when they were there. Now, within this time of grief, the couple wished more than ever that they were still there with the sun shining on them.

Colette's attention was brought back to the present as Avery started talking to her.

"It will be okay," Avery said, while looking straight into Colette's bright green eyes. Colette met his gaze and responded with a quavering voice.

"I know it will. I won't forget you Avery. Please don't forget me."

"I won't, I promise," with this he broke down and cried. Colette took him in her thin, pale arms and began to cry herself. She leaned into him and her dark, almost black hair spilled around her shoulders. They cradled each other while many more promises were made, and were sure to be kept.

Colette stroked Avery's hair and Avery held her close, two old souls who were meant to find one another. Both wanted so badly to cling to each other forever, but knew that it wasn't possible. They felt confined in their seatbelts as they tried to think themselves back onto that peaceful field of grass, while in the bleak reality; they were in a compact car on their way to their inevitable separation. Two and a half hours went by and their hands were intertwined the entire time.
They approached the airport and a deeper sense of realization came upon them. They really did have to part, and there was nothing they could do about it. They put it off as long as possible, Avery even stayed at her house for three weeks so they could have more time together. They spent hours brainstorming ways so that he wouldn't have to leave, but they knew they could never put these ridiculous plans into action.

Colette's mother parked the car in the crowded parking lot, everyone gathered their luggage and exited into the drizzling rain. Avery managed to help the others with their bags and hold Colette's hand at the same time. This made her smile, which was all Avery ever wanted.
The group hobbled into the building, laden down with baggage, purses, and heartache. In Colette's backpack was her plane ticket to Pittsburgh, Pennsylvania, where she, her sister, and mother were visiting, and then coming back home. In Avery's front pocket was the cause of all this pain: his plane ticket to Redlands, California, where he was moving and not coming back. His plane was to leave four hours after Colette's. Even though Avery was only 14 years old, this was his 14th move. His cold-hearted mother yanked her children from school to school and state to state with no regards as to how it affected her kids. This made Avery lose friendships if he was even in a place long enough to make them. As a result, he felt shy and invisible when he walked into a new school and was ignored.

Inside the terminal, the pain became unbearable. As the final goodbyes were said, Avery and Colette's tears turned into waterfalls as they thought about life without each other. Her mother had joined the choir of sadness and completed their circle of crying. As Colette's boarding time drew nearer, their separation became a reality, she in her gate on one side of the glass wall and Avery in the terminal on the other side. It was like a cruel miming game, as they tried to talk to each other, unaware that someone had pressed the mute button. Streams of salty tears rushed down their faces. The pain of leaving still showed through the sheet of glass. With their hands pressed together against the invisible barrier, Colette blew Avery a kiss, mouthed, "I love you," and forced herself to walk onto the plane.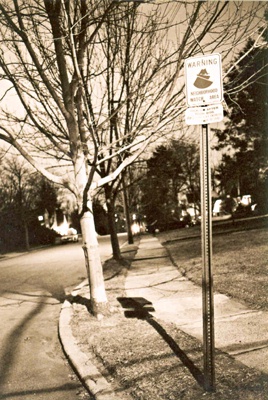 © Samantha G., W. Orange, NJ