238 Days.
November 3, 2009
Hi, my name is Halie, Halie Golden and I'm the only living survivor of the twin towers after it collapsed.

Everyone else is gone. The news broadcasters on television lied to make it look like some people who were in the building when it collapsed were saved but one one other than me survived. It has been complete days of darkness and two hundred thirty-eight days since the tower collapsed, sometimes I wonder what would drive a person so mad to do such a thing.

I live alone, in complete darkness, its rare if I eat. Last week was my birthday, I didnt celebrate it, even if my parents were alive they would not have noticed. My mother had schizophrenia, and my father was a serial killer. My mother was a sweet woman who was loved my many, when you look at her you could tell nothing was wrong, but deep inside, something was wrong with her brain.

My father killed for a living, I couldnt tell you why he did what he did, but it hurt me in a huge way. When the kids at school saw my dad on the news they put two and two together and figured out I was his daughter. They made fun of me every day, pulling my hair, laughing at me, and I even got jumped once. My mom was two busy to notice because she was in the hospital alot for her delusions.

One thing the kids at school couldnt tease me about was my house.The house we lived in was huge it had twenty bedrooms, eleven bathrooms, and five pools the house was made for royalty and was passed down to my mother.

My mother and I had a special room we loved, it was painted bright yellow and was beautiful. We played hide and seek in that room.

Now the room's walls are faded, it is was dark and empty, what I called a castle was now nothing.

I wish I had other family members to run too, but I dont. No one probably knows I'm alive. I know there is an angel that watches over me, there has to be one. There has to be something out there that helps me keep my sanity.

I have no idea what happens behind my closed door, I have no idea if we have the same president, or if its snowing outside. I havent felt a cool breeze for along time. Everytime I open a window, I panic, run or scream.

*****

It was a normal day on September 11. I told my mother not to go to work that day, I begged her to stay home with me, but she insisted she had to go.

"Are you sure you have to go work today?" I asked my mom for the hundredth time.

My mom gave me an evil glare.

"Yes." She replied with a frown. "Your father is not around to help anymore."

I shut my mouth and finished eating my toast. I knew that the kids on the bus would call me serial killer's daugher and pull my hair, so I followed my mom and hid in the back seat of the car.

I was going to follow my mom to work so I wouldnt have to go to school, nothing was worth that pain I would endor at there.

When my mom reached her work and parked the car, I waited for about five mintutes until I got out .

I stood outside admiring everything then I walked right into the front door of twin towers. I took the elevator to the top floor to look for my mom.

Then everything went black, people were screaming, and praying to God, I even saw a guy jump out a window.

Memories from what happened that day still haunt me, but I learned to move on.

I opened the front door and felt the sun hit my face. It's been two hundred thirty-eight days of complete darkness but it doesnt have to be dark anymore.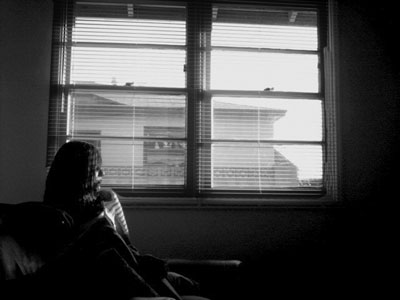 © Roxana R., Tustin, CA