the lovely dashing heart
October 20, 2009
goodbye

Yes, that was the last thing my best friend ever said to me.
Well– she didn't even speak it. Slim fingers said it over a three-hundred-fifty-two mile distance, grave screen to grave screen.

I love you
goodbye

I screamed. Time, time, time. Do you know the agonizing footstep that is the second hand moving? It sprinted into and out of my life before I even had breath to– what? I was reaching for the phone, that's all I remember. What was I going to do with a thing like that?

Thanks for everything.
I love you
goodbye

Don't thank me. I'm a useless person a million miles away, reaching for the phone.

I'm sorry.
Thanks for everything.

Why does the kid beat up on the playground always apologize for crying? I never understood it. Yes, the bully has to go and turn his card; yes, he's on the phone with his parents, explaining. Does he know that he's made a liar and a fool? I never wanted to see my best friend a fool like that. Well– I didn't even see it. We were worlds apart.

everything will be okay
I'm sorry.

Okay? Who follows okay with sorry? I never heard of a best friend doing that.

I know you can't understand, but with this
everything will be okay.

God himself couldn't understand it. Don't ever say okay to me again with a gun in your hand.

I know you want to stop me.
I know you can't understand, but with this

It took that for me to realize the terrible world I'd been building for myself, you know, and it wasn't worth it. I'd rather have never realized. Signed see you later. But now it's clear: my heart races when I have to speak to a crowd, so I tell myself, It's okay, this doesn't really matter. My chest tightens when I have to work in a group, I say, If I screw this up, my grade will go down and the group will glare and in twenty, fifty, sixty years my heart will never think of it again. Hush, hush, heart of mine.

I know what I need to do now.

When you typed that, there were no more words of comfort for my lovely dashing heart.

I've been lost for so long, with only you in the dark, and you're so far away.

My fingertips screamed. What did you want me to say?

Hi. I'm not going to be online for long, just wanted to talk to you one more time. Say thanks and everything. You were all made me put this off till now. But you know

No, I don't know! I never knew! Wait wait wait wait

I've been lost for so long in the dark I know I need I know sorry thanks I love you

I heard the pistol blast from universes away.
Fingers on the phone.
Second hand firing sixty times a minute.


Hey, best friend–

goodbye.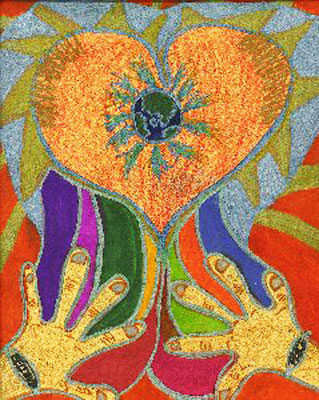 © Amanda P., Clermont, FL