Maybe
October 18, 2009
"Maybe I should go and talk to her," I thought, looking at the girl sitting as far away from the party as possible. She twirled the ends of her hair as she snuggled deeper into the plastic chair she sat on. Behind her glasses, her eyes darted to and from the wildly dancing teenagers and the door. She wasn't in our 'group,' but then again, Tyler had just about handed out invitations to anyone who had hands to grab them. She appeared to be deep in thought when a group of girls playing mini-golf threw their club against the wall and shattered any happy thoughts she could have had. She quickly pulled out a cell phone from her vest pocket and dialed.

"Just get up and talk to her!" I urged myself. Then I looked back at the rest of my 'friends' who were to busy socializing to notice the wallflower making her way towards the door. Just as soon as I finally pushed myself up from my chair to go and talk to her, a voice snapped me back into my life- my real life.

"Hey, where're you going?" they asked me. As I looked back at the girl for the last time that night, our eyes meet. She gave me a pathetic smile before she darted out the door of our world.

"Nowhere," I said, still looking at the ajar door. I sat back down, promising that next time I'd talk to her. Maybe.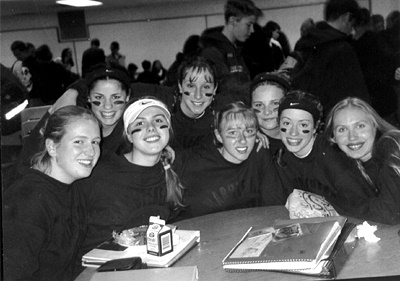 © Heather C., Marblehead, MA