For all the Wrong Reasons
October 18, 2009
The day is warm, but the glass is cold. I reach over, just to feel the sunlight on my fingertips, that feeling that never lingers on my skin- but the glass is just there, as if to punish me for being in this room, and not outside, the one place I can't go. Not now. My act is unravelling. At least, I think, I am alone.
My sadness is brief and demure, like ripples on top of a pond of soft molten metal. Brief, just there until the moment passes. But each ripple causes a shallow wave of emotion to wash through me, hurting rather than cleansing. And my smooth mask is gone, just cold emotion dangling vulnerably like the heart-shaped necklace that wound around my neck, resembling a noose. Because each ripple stretches farther towards land, towards others, exposing me.
I close my eyes. And I do what helps me, what grounds me when I need grounding, when I need stability.
Sometimes I forget why. But then there's always the reminder, a song, a memory- and you just know. And you get that tingly-all-over feeling, and you know its true. And can't help but wonder why some feelings don't die after time. Why secrets just don't go away, and things that should have never happened still linger with you, every day. Something's are just always there, for better or for worse, like a marriage vow for a marriage long failed, but its just is there, proving that words don't mean anything for the future tense. Present and past, they mean everything. But once the moment unravels and that chapter comes to the end, when the colors and seasons and days run out, you wish that they meant future tense. But they don't. Something's, though, are forever. Memories are. Until you forget them, memories are your past, present and future. Some people live by them, their references and smiles and tears and all these things put together as a ten second re-run in your head. Over and over. Some people die, physically and emotionally by them. And some people forget. But its not that easy for everyone. I need them, like a drug. When I'm not feeling so great, I remember. I use them as confirmation for something, I use them to justify my decisions. And Its so easy to say what I mean, but so hard to explain how I feel...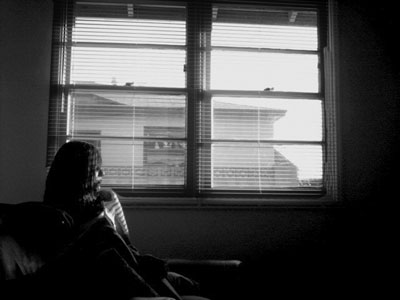 © Roxana R., Tustin, CA