Maybe...
October 18, 2009
Maybe the other girl hit her first, which seemed like something Rosa would do to her. I could smell the dried blood that clenched to their clothes as the people carried their bodies away from here.
My tears streamed down my face as I watched her body lay on the gurney and people quickly crowded around eager to find out what happened. I stayed besides my friends who cried with me about Nicole's death.
They said that Nicole and Rosa got into a fight in the bathroom. They said that Nicole slammed Rosa's head into sink, instantly killing her. They said that Nicole killed herself with the knife on her keychain. They said it was all Nicole's fault.
They didn't know that Rosa had been picking on Nicole since the fourth grade; we're in tenth now as her body was being rushed off to the hospital. School was letting us go home early because of what happened. People cheered about it as they got on their buses so early in the morning before lunch even started. Maybe those people didn't know two people died, maybe they didn't care either way they piled onto the bus to go home.
My friend Katrina and I sat on the bus, motionless, noiseless, and shocked. I kept my tears back as I imagined the parties we went to and the fun we had. She was my best friend for three years, and now she's gone forever.
Next time I saw her she was lying in a coffin about to be lowered into the damp ground. Maybe she did hit Rosa first, maybe not; all I know is that my friend is gone. Maybe I'll meet up with her, maybe I won't. I'll miss you Nicole, forever. That I know for sure.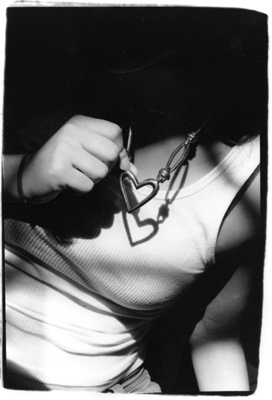 © Julia R., Bethesda, MD