selected excerpt from "Bite"
October 15, 2009
Serena had sex, thinking of him. He would go away into her mind often but then would come back again at the worst times. The most unexpected portrayals of his image appeared in the back of her brain, trudging out of the abyss of some cerebral goo, oblivion. His image was like the image of God; it taunted her. She could look in and around who He is and what He feels and all she could see at all in the place of the Holy was a p***** off, angry little boy threatening to tear the ground out from under her, for the things she had committed. All the wrong Serena was doing to Joe. All the lonely punishment she deserved from the wrath of God. And in truth, somewhere above all of this, she knew Joe was dead and could not see what she was doing to his memory. Just like the immaculately blind eye God turned to her every sin.

The real God couldn't see a thing. The real Joe was rotting under a massive tombstone. But it was not this cruel reality that had so drowned her faith that scared Serena. It was the picture. It was the picture in her, which still cleaved to the faith, though submerged now in the black waters of Wurlock Lake she'd thought her ideas of God and the afterlife with Joe had fled recently. The picture of Joe, the picture of God, intertwined, or made one? She could never tell, but it seemed to be a theme that played back through the ages, long before her time, back to the primordial rise of men, where God was a mask. It was Joe's eyes and face this time that masked the true enemy inside, the enemy that knew, that SAW what she was doing, the enemy that was whispering and hating her for tainting this hallowed love, why was she DOING this to him? The enemy was herself. It was her own self that stared out from those neurological eyes, painted on the backs of every energetic chemical that bounced to and fro inside her skull every time she anticipated the f******.

Though they were really only her eyes that stood in the self-hatred and self-judgement, they were also what she imagined Joe's would have been, had some form of his spirit escaped from the tracks and gravel and sensed Serena's kiss landing on another's tongue and lips. Souls didn't exist, she knew now. But one had just risen. From Joe's remnant gore had it come to manifest itself inside Serena's head? Had it instilled in the gray matter those ghostly blue eyes? So blue, so blue they had to be Joe's... Serena couldn't force herself to disbelieve the soul theory anymore, not when those fierce eyes stared straight through her inside her mind. She could not control the picture. It controlled her. He was watching her. He was in her, hating and destroying every good feeling she might have once had. He was nowhere, really, and that was the part of her that drove her insane. Especially whenever someone else touched her skin.

And Serena was so guilty of this.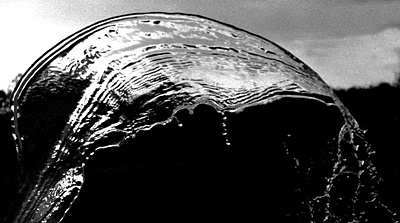 © Kellie S., New London, NH