Graduation
October 4, 2009
The day had come that would change my life dramatically. I stood in the crowd, surrounded by a sea of people; none of whom I wanted to see. I searched the crowd, my eyes helplessly searching through the blurs of blue and gold. My ears tuning out the sad voices, which were all consumed in saying farewell.
My feet began to move, pushing through the mass of bodies. Flashing lights still drowned on, leaving spots on the inside of my eyelids. I stumbled over and over, until I reached the stands, where family members were crying over their precious sons and daughters for their accomplishments. The one person I longed to see, continued to be out of sight. I leaned against the cold pole, waiting. Willing myself to become invisible.
This obviously hadn't happened, because someone had acknowledged my existence.

"Hey, you!" The preppy girl said. She raced towards me, a feign good-bye already creased into her face.
"Hi." I replied. Keeping my tone truthful.
"I'm going to miss you so much!" She squealed. Wrapping her arms around me.
"Me too." I said. Whose the one who is faking now? I asked myself.
"Well. Maybe we'll get together soon." She smiled, and left my life forever.

I kicked the dirt that rested below my feet. My mind was traveling to the only one on this field that meant anything to me. A shout caught my attention. I whipped my head up, my hair flying in wild directions. Suddenly, my heart jumped. My mouth twisted into a smile, and all my nerves calmed. He swung his arms around me, his laugh ringing through my ears.

"We're done!" He shouted. His perfect smile spread broadly across his smooth face. His love and warmth embracing every part of me.
"Wahoo!" I shouted, my true personality beaming through the silky gown.

So at last, my worries were eased. Or so I thought. A sudden shot rose around the chilly, dusk air. My ears went numb against the curdling cries. My eyes swelling with tears. MY heart shattered. Never to be the same again. The man who had brought me to peace, went limp.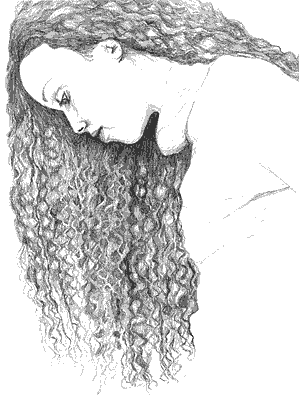 © Andrea S., Oakhurst, CA