The Automaton
October 1, 2009
I saw the automaton immediately, back lit by the skylight as it was. Humanoid in shape all the way to the waist, head lolling uselessly to one side, it sat near the middle of the darkened attic. The light from the skylight was tainted yellow by the setting sun, and illuminated dust specs flowing in lazy patterns, falling in and out of the light. The automaton itself had most obviously once been brightly painted, though now, its colors fading, it looked somber and sad, lit only on one side of the skylight, the rest cast in shadow. On the back it announced, "Old Man Joe's Amazing Automaton!" in gold lettering, as if pronouncing the name of a circus.

Once it had performed for children in the street, its bare wooden head masked like a clown, handing out candy, singing and waving its long arms around like a fascinating puppet. It was also evident why it was not now sitting instead in the back of a van for use once again the next day. One side of the mechanism lacked a cover, which lie beside it on the floor, the screws that held it on lying beside it. Several gears were broken. Beside the screws lie an old screwdriver. In the front of the robotic man there was a small puddle, and disturbances in the dust, as if someone had been kneeling before the automaton, their face streaked with tears, and then ran from the room.

I also saw by the door as I turned to leave a pamphlet for a memorial service. It read;
Old Man Joe, performer and beloved grandfather.

And at last I understood.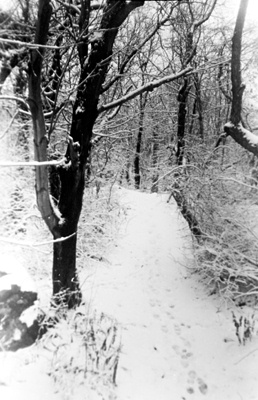 © Keley C., Marblehead, MA