The widows daughter
September 28, 2009
" Ariya! get the hell down here now!" his nagging voice tore through me. I hated my step dad. I hated my family. I felt sorry for my mother. My father died before I was born. I am the youngest in my family. My father did not die in any way I want to think about. He died in a car accident. He was leaving my mom, because my mom was pregnant with me. Constantly my brothers blame it on me.My mother got re married to a horrible man whom I could never love nor could i even talk to. He was the reason I had bruises and black eyes.

As the track marks inched their way up your arm
My mother taught my brothers and I not to call you daddy
But to call you father

" What Craig?" I said stomping down the stairs. His face was ten shades of red. I could tell that he wasn't going to hold back at all this time.

" Why am I hearing that you are running off with the neighbors son? He doesn't honestly want you, no one would. I don't want to pay for your child with him and he wont want to be with that stupid kid. He'll run off like your father did. You have to stop killing people with thinking they would want to be around you." I burst into tears and swung at him. He grabbed my wrist and twisted it behind my back. I could feel the bone begin to snap. I yelped in pain and he threw me to the ground.

" Get out of this house right now! I don't ever want to see you again." His voice louder than a PA system. I wouldn't dare to second guess the neighbors hearing us.

Was I just a seed you buried deep inside
Some woman you wed
Right before you crawled out of her bed and crept down the hall?
Did you think of me?
Did you even for a second hesitate in the doorway?
It's just something that I'd like to know
Though I'd still love you if told me
You just walked away

I jumped up and ran out the door. I ran to my best friend, my boyfriends house. He was the only person who knew of my family and how they hated me. I climbed through his window, wincing in pain when I leaned on my wrist. It wouldn't be the first time he broke one of my bones though.

" Ariya whats wrong?" He said as he helped me through the window. I cried harder and harder on his shoulder.

" He kicked me out of the house. He blamed my fathers death on me, said you were gunna leave me too, and broke my wrist." I said barely breathing. He held me closer than ever, rocking back and forth, I could feel him crying too.

" How can anyone be as cruel as he is? He is a spineless jerk who should be put in jail." He said screaming it practically. I wish that were an option. He was head of the police department. Only my family and Brogan knew the true nature of my father. I hated him with all my being. Brogan talked with his mom and told her everything that was happening, and she delivered the news that I had wanted to hear my entire life; I can move in with them. I waited til midnight to walked back to my house and pack my stuff. Brogan cam with me for protection, in case he woke up during my visit. I nervously shoved my clothes into my huge canvas bag and climbed back out of the window. I sat on the window sill and sighed, relieved at the pain I was leaving behind me. Finally free.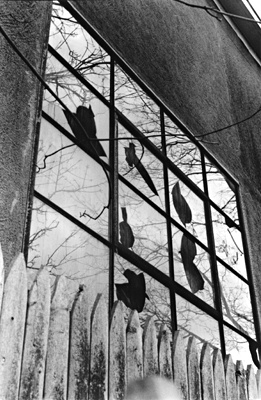 © Halsey S., Marblehead, MA