December Nights.
August 30, 2009
The sky was a flawless shade of navy blue on that bitter December night, the stars speckling the sky like an endless display of silver freckles. The moon raised higher and higher, the half that was illuminated looking as white as the light blanket of snow that coated that ground. People had feared this day for years and I…well…I was unsure of what would happen when the clock struck midnight. It frightened me to a certain degree; not that I would be the first to admit it. I sort of thought the Mayan's prediction was far-fetched and surreal, but in the back of my mind I knew that they could be right. No one knew what would happen, so why not?

The date is December 21st, 2012, the so-called "doomsday." Nothing had been out-of-the-ordinary all year, though I chose to sit outside and wait for the day to end out of my own curiosity. Would everything just end? Like flipping a light switch? That question (As well as many others) were burned into the back of my mind and as stared up to space I wondered how such a thing could be true.

Glancing at my watch, I swallowed hard to see that the time was 11:58 PM; two more minutes until relief or death. It was a bleak thought, but a real one. The unknown had to be one of the most frightening things ever known to man.

I listened to the petrifying silence that enveloped me. No crickets filled the stiff air with their orchestra of chirps, no sounds of children playing outside. My back was beginning to feel numb from the freezing temperatures of the snow, but in reality I didn't mind. This was probably one of the most peaceful moments of my life, and a silly thing like discomfort wouldn't distract me.

The ground was flawless and smooth, untouched by anything. If I concentrated, I could make out the delicate skeletons of snowflakes. They reminded me of corpses left underground for centuries after burial. Sure, we knew we were there, but we never took the chance to appreciate what they were before being inanimate.

12:00 AM. I held my breath, closing my eyes and waiting for something, anything to happen.
I held still for several moments before exhaling and glancing at my watch.
12:01 AM.
A light smile crept across my face as I watched my smoky breath float above me, twisting and turning until it slowly disappeared.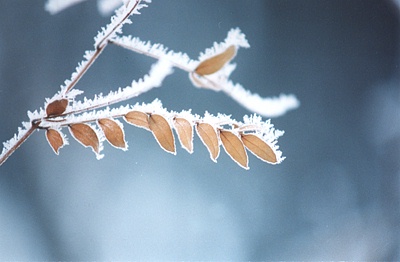 © Allison S., Eau Claire, WI