A Kiss and a Goodbye
July 30, 2009
The crisp summer air had nothing on the brightness of the blue sky. The wind flitted between the trees, causing the leaves to tremble and the branches to shake, creating a melody all their own. I suppose it was childish of us to be at the park, nevertheless occupying two swings that we frequented years ago, but I don't think we really cared. We were one week away from being seniors. It was these fading carefree moments that we treasured the most.

Conversation flowed easy between us—well, when you've been best friends since you were three, that's not an impossible feat. I listened to you as you lamented about your latest ex-girlfriend—you know, the one that you caught cheating. I smiled and said all the right things at all the right times, nodding my head and muttering affirmations as you spoke. I absentmindedly noticed the way that the sun glinted off your hair, tinting it so that it appeared to be a lighter shade of brown than it actually was, and that your light green eyes were furious as you ranted.

I couldn't help but think that this was the way things were supposed to be.

Me and you, sitting on swings, oblivious to the world around us.

I gently pried you away from the subject of your ex—you were getting way too worked up, and I was worrying about how legit your opinions were. You refrained from swearing, yet you had managed to do so in this conversation—twice. I gently asked you what you were going to do after high school, and you started swaying on the swing as you answered.

"We've been through this a million times, Aria. I'm going to be just like my daddy," you spat the word out, "go to law school, get my degree, start up a firm, make millions of dollars, and then neglect my kids because I can't tear myself away from work." I winced as I realized I brought up another touchy subject.

"Danny, that doesn't mean that you can't dream," I replied quietly, looking at my feet. You stopped swaying immediately, freezing for a moment. Your voice was unreadable as you spoke.

"If I dream, I get my hopes up. If I get my hopes up, we fight more. If we fight more...well, you remember last time." Your voice was quiet, and I did remember—the flashing lights, all of the wires and the tubes...but I purposely made sure that the number of pills you swallowed remained fuzzy in my memory.

Your dad wasn't happy with you. He was angry that you tried.

"Danny, you don't have to do what they want you to," I murmured, attempting to reassure you. You were tense—a sign that told me a loss of control was on the horizon.

"But I do, don't you see?" Your voice was icy now, self-loathing apparent. "If I refuse, they'll find a way to make me—I'm pushing my limits by even talking to you. You're lower class, apparently." The look you gave me was sharp, passionate. "But I don't care. I need you around. I don't even know what this is called," you said, motioning between us, "but I like it. No matter what they say, I'm not giving you up."

The sincerity in your voice was heartbreaking, and I was moved by how convinced you were. "Danny, that's only the beginning, you need to tell them how you feel..." Your gaze was troubled as you tore it away from mine, looking only up. You gnawed on your bottom lip as your mind raged war with your heart and then, after appearing to come to a decision, you kicked off, pumping your legs quickly in a vain attempt to reach the sky.

"I can't afford to feel, Aria," you say, your voice changing from close to distant in a matter of milliseconds. "If I feel, I'm opening myself to weakness, which is something I can't afford to have, according to my father—what a loose use of the word! It's similar to how I can't dream—dreaming would give me hope, hope is an emotion—I've basically been forbidden from doing anything remotely human."

"You'll always have the right to dream!" I object forcefully, but I'm not entirely sure if you hear me. You certainly don't acknowledge my comment.

"It's these moments I enjoy," you continue, and even though you almost resemble a blur I can tell that your hair is moving with the wind. "The moments where I can feel—where I can surrender myself to my senses and just let them do their job...Don't you see, Aria? I don't function properly with a set course of action—I need to be able to feel my way through things, not plan ahead. I need to be free, Aria—free to feel, free to dream, free to..."

You stopped suddenly, and your heels halted the swinging movements. Your gaze immediately enraptured mine, and the unshed tears in your eyes became obvious when you was still. "Free to what?" I asked quietly, succumbing to the pressure behind your eyes. That same pressure intimidated me—it made me wish that you wouldn't answer.

Your voice was frantic as you spoke, all self-control abandoned.

"Free to be with you."

The kiss was soft, tentative. I tried to imagine what we looked like to onlookers—two teenagers, suspended in the swings of their childhood, attempting to stop time with a single kiss. It had me worried, though—you only ever said that you would kiss me when you said good-bye. If this was good-bye, I didn't want it to end. I didn't want you to even think about leaving again.

I kept my eyes closed even after you pulled away. You murmured one thing, "Good-bye."

You didn't hear the, "I love you," that was whispered in response.

You ran away that night—when everybody interrogated me, I had a hard time convincing them even I didn't know where you went. As I got older the memory of you never faded, and every night before I slept I thought of a kiss and a good-bye.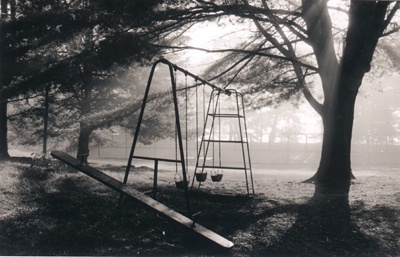 © Steve S., Marblehead, MA