Change In 2 Seconds
March 29, 2009
Not knowing when the next time we will be able to eat is very scary. My name is Lucianna, I am 15 years old and I have been living on the streets since I was 9. You see I have never known who my dad is and my mom has never known when to stop drinking her alcohol. But, not only am I living on the streets by myself, but I am three months pregnant. When late night after recycling my cans I went for something to eat at a local resturant. After word I was very tired, I walked to the park and fell asleep that night I was raped. I was to scared to report it. So here i am now, alone pregnant and very hungry.

Two weeks later when i was on my weekly trip to recycling a lady stopped me.

"Hi, I am sorry to bother you young lady, my name is Sara. I have notice you the past couple weeks by yourself. Im new to the city, how about youself?"

It was very strange of someone in this city to be so kind...know wonder she isnt from here.

"My name is Luciana and yes, I am by myself, i am out on my own. I have been for 6 years."

"Im so sorry to hear that. What about your parents?"

"I dont mean to be rude ma'ma but why are you asking me all of these questions? I don't know you."

"I have noticed that maybe you are pregnant for you to be out here is a very scary thing. I myself was in your situation, and well I was hoping maybe I could help you off the streets and have you stay in my guest room. I have a wonderful home and it is much to big for me to live in by myself. I live right outside of the city in a subarb.If you choose not to I understand, sometimes it is hard to trust people that you dont know."

In my head im thinking how wonderful it would be to live with this lady in her house. But, then again, can i trust this lady i dont know? How do I know she isn't going to hurt me? But, i decide to go to her home. I can't raise my baby on the streets I want to be a better mom to my baby then my mom was to me.

"Sara i am very thankful that there are people like you on Earth, i would love you come stay at your home."

"Lucianna do you have any clothes or something that you need to get before we go?"

"No this on my back is all I have."

"Ok well let's go find my car and we will go to your new home."

When we get to her car my mouth just drops open.

"THIS IS YOUR CAR?!?!"

Parked right infront of me is a Mercedes Benz. I have always wanted just to touch one and now I get to ride in it.

"Yes, this is mine."

In shock I hurry and poke it with my finger. While Sara looks at me and laughs.

"Lucianna how about you just get in."
30 or so Minutes Later

We reach her house and it is so beautiful, and huge!! It is the biggest house I have ever seen. In the huge garage there is 6 other cars. When we enter the house it smells good.

"I hope your hungry, Sara says, I had my chef cook us some chicken."

"Im starving!"

All in all, this is a miracle that this lady is so kind. While eating her and I talked about my life and I told her everything that had happened to me. She told me that if I wanted to she would allow me to go to school until closer to the birth of the baby. And she would hire someone to build a nursery for the baby. And that i could live with her for as long as i needed too. After I had the the little baby girl Luci, Sara adopted me, she and I agreed that i needed a new mom.

Two years later, in still in school and my baby girl is doing fine, some day I and my mom Sara will tell her the story of how your life can be so horrible and change in two seconds.

Not knowing when your life is going to change can be scary or wonderful at the same time.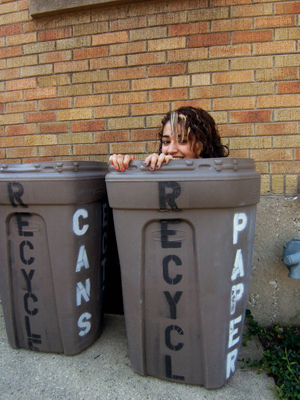 © Carly C., Warrenville, IL