One Two Three
August 2, 2009
Annie leans into the computer screen as the man with the deep voice begins to speak. Her hand rests lightly on top of the mouse, her eyes twitch this way and that as she processes the array of gem tones, the grid.
"One minute" says the man. There is no three two one.
"Go." He does not shout it like he is excited or like it is urgent but Annie knows it is. She clicks with her mouse, click click click and tiny explosions begin to appear on the screen as orange jewels are swapped with green ones and blue jewels are swapped with silver ones. Three in a row, that is in the back of her head and don't stop don't stop don't stop or you'll loose the time bonus and your score will end up like 7000 or something stupid and that's just embarrassing since you've managed to get a 209000 before, gosh that was a good day.
In fact, that was one of Annie's proudest moments. She had jumped up and down and shrieked like when she had broken her wrist. But that broken wrist was painful and her score had been bliss, bliss like nothing else Annie knew except it went away fast. Some things make you happier for longer, Annie had realized. The time her purple skinny jeans came in the mail, she was happy for maybe a day. That really good report card last year made her happy for a week or two. When she gets a good score on Bejeweled it's maybe 30 seconds before all that bliss goes away and she wants to play again. The game only lasts for one minute; the deep-voiced man reminds her every time.
Annie slides a purple gem, the kind that's shaped like a triangle into a spot between two sets of those same two purple gems and a little spinning hyper ball that looks sort of atomic replaces them all. She doesn't even have time to think yesyesyes before she slides a sliver octagon shaped gem next to the hyper ball and the computer is struck by lightning while the rest of the silver gems on the screen disappear. Annie likes the silver gems and the purple ones, but there are others, the yellow diamonds and the blue squares, that she does not. When she looks at the screen she sees that sliver and that purple in the foreground and she matches them all up before she has to deal with the other colors and their slinkiness. She hates the way they camouflage themselves when they're no different in size or number than the ones she matches easily. She wonders why she sees like that and she thinks for a moment about Ms. Beasley and science fair. Would that work as a topic?
The computer begins to make the noise, the one that means there's only ten seconds left and the one that sounds to Annie like a magnified beating heart. Her eyes scan the grid with more panic then they did when the game began and she would have said don't stop don't stop don't stop to herself if she had had the time but she doesn't.
"Time Up," says the game. The words flash onto the screen with an exclamation point at the end that does not sound like it's there when the man with the deep voice says it out loud. Annie does not mind the sound effects. She likes them and how real they are, all except the one that she hears when a couple of the jewels have to shift a little, move down a row because she's blown up the ones below them. She hates it and how it sounds exactly like the word slither. It makes the sides of her body throb.
Annie always thinks that "time up" comes too fast. Usually when she sees her score the way they map it out, the time bonuses and the hyper balls and power jewels she has created, she changes her mind and is amazed by how much she can accomplish in sixty seconds. It takes one minute to play the game and react to the way the jewels are laid out and click click click and maybe get her best score ever. It is a minute of concentration and it is a minute like that which so many people waste because they think of it as just a minute. She imagines all the minutes she spends walking up and down stairs and closing doors and just sitting there in class while her teacher talks about stupid stuff. Those minutes are not full of productivity like the ones she spends playing Bejeweled.
Annie sees her score, the score she never dares to look at while she's playing because it'll throw her off and make her nervous. 215400. She has beat her record and there she is again, squealing like she broke her wrist. Squealing like Catharine had when she won that teen essay contest, squealing like Zoe had when Les Mis was over and she had done such an excellent job playing Eponine, squealing like her older brother had when he got into college. This is how Annie squeals about Bejeweled.
Annie is blissful for maybe thirty seconds, blissful until she realizes it's 2 AM and her Lord of the Flies essay is only one page long. Click, the bejeweled screen is minimized and there is her essay, hidden underneath all that fun she was having. She watches as the words she had written swap places with each other; she shifts them up and down and side to side until Simon Simon Simon line up and the the the line up and island island island line up but none of them explode like on the glimmering grid of jewels. They are still there and she has to write more of them.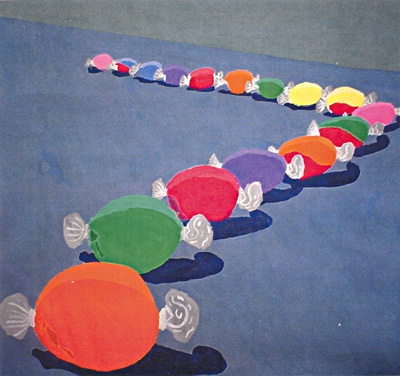 © Adam S., New City, NY