Depression
March 10, 2009
I sat at lunch, alone. Nibbling on my sandwich was my focus right now. No one liked me. I'm a creep. A freak of nature. These phrases echo in my mind. "Freak..." It taunts me, waiting for me to go crazy believing this is true.
In the halls, I hold my books close to my chest. People try to trip me, I end up falling. Tears roll down my cheek, I am an outsider. I want to be like everyone else. I am not perfect. I have a horrible life.
Jealous, one word of what I am inside. Everyone has a perfect, sunshine, happy life. I don't. My mother does not care. My father, is perfect. The best father you could ask for. My sister.. well she has problems. Whatever happened to... "Smile make a day brighter?" They fill mine full of sorrow, and hate.
Everywhere I look at school, is horrible. I like my school, the people in it are who disgust me to the point of nausea. They make me sick. I have friends, sure, half of them are fakers, and don't care, others are my true friends, and like me for who I am. I am stressed.
I am still sitting at lunch, alone. It is quiet. I go home in a couple hours... I think to myself. No one wants me. Why should I even live? I don't deserve to.
At home, my mother is outside, smoking, no one else is home. I pull out a knife. I touch my finger to the blade. "Ow!" I remarked. Good, sharp. I hold it in front of my chest. I stutter for a few moments.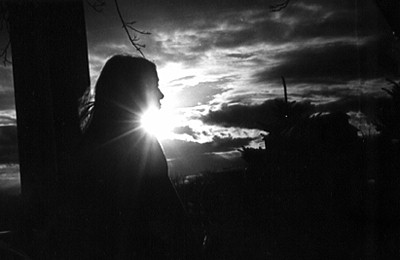 © Elizabeth G., Marblehead, MA