The New Kid
July 25, 2009
The teacher introduced him as the new kid. He stood in front of the class with a look on his face. I couldn't really recognize the emotion behind the look, but I could tell it wasn't a good one. Everyone in class starred at him, I didn't blame them. The guy had on these huge glasses; his pants were pulled up all the way to his chest. I thought people dressed like that only to play a nerd character in a movie. But as I looked at him, I knew I thought wrong. I guess I was in deep thought because when I looked up, I saw the new guy walking towards me. He got to the table beside me and slowly sat in it; he placed his backpack on his lap and held on to it like his life was in it. I wanted to stop starring at him, but he is just the type of guy that you can't take your eyes off of, and not in a good way. I finally took my eyes of him, but just after I took my eyes of him, I felt him starring at me. I felt really uncomfortable, but I guess now I know how he felt when I was starring at him. He kept starring at me throughout the whole class, until the bell finally rang. He rushed out of class as soon as the bell rang; I stood there and wondered why he was in such to leave class.

The next time I had that class; I walked inside and saw him already in his seat. I slowly went to my table and took a seat. He looked over at me, but this time he didn't just stare, he held out his hand and said "Hey, I'm Sam". I was surprised to here him talk but I managed to shake his hand and say "I'm Pam" I then notice that his backpack was on the floor this time and not on his lap. I found myself asking him what was in his backpack that made him hold unto it so tightly the class before. He didn't answer my question; he acted as if he didn't even hear words coming out of my mouth, but instead he asked me if I did any sports. I told him I played badminton and asked him if he played any sport. He smiled and said "No, I don't play any sports but I'm sure you've figured that out just by looking at me". I found myself smiling, it wasn't because of what he said, but it was because of the fact that I actually saw him smile for the first time. For some reason I found so much comfort in his smile. I smiled and said "Wow, you have a nice smile". He smiled one more time and said "so do you".

We found ourselves talking about colleges we wanted to go to, our favor favorite movies, and our favorite types of songs. I was surprised at how easy and comfortable it was to talk to him. The bell rang, but this time he didn't rush out of class, instead he stared at me and asked "Do you really want to know what was in my backpack?" I smiled and said "More than anything". He then told me that he will tell me what was in his backpack if I let him walk me to class. I stared at him and couldn't take my eyes off of him; he was the kind of guy that you couldn't take your eyes off of, in a good way. I grab my backpack and said "Okay you can walk me to class". But the thing is, I didn't let him walk me to class because I wanted to know what was in his backpack. I did it because I only had one class with him, and I thought letting him walk me to class was the perfect opportunity to spend a little more time with him.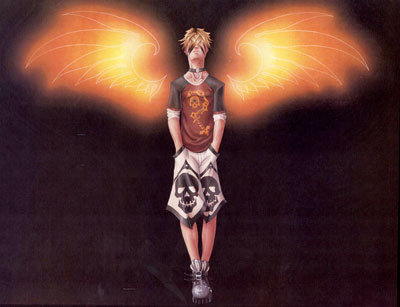 © Raul R., Monte Vista, CO