The Way They Were Now
July 23, 2009
It was really overcrowded in the mall. It should be illegal to have this many people in one place. Come to think of it, I bet this place was exceeding the fire hazard limit. Anyway, I couldn't see Aliana or Mom anywhere. They just left me like they always do, on the line ( that was a mile or so long) to wait until they are finished and ready to pay. Ugh, the guy in front of me smells like he lives in a dumpster and the baby in the stroller was making everyone deaf. I couldn't take it anymore. I snapped my fingers, then slowly and carefully made my way to where I thought I saw Mom behind a rack of jeans. I took a moment to look at them, the way they were now. Aliana had a pair of Seven jeans pressed up against her, trying to get Mom's attention and try to convince her to buy them. Mom's attention was occupied on a pair of stilettos. I grabbed whatever they both had in their hands, but I was careful to put the jeans back before anyone got suspicious about them. Mom would never let Aliana wear those. I walked back to where the cashier woman was. She was middle-aged and very tired looking. I could see this day wasn't helping that fact. The frustration was clearly painted on her face. I decided it was my job to make her smile. Ha. I turned the corners of her mouth into a smile. Now it just looked like she was constipated. Oh, well I tried. I checked out, I figured what's the use, but I did it anyways. I went back and placed the bags in Mom's hands. Snap.

"Annalena!" shrieked Mom. Clearly, she was not expecting me. I silently laughed to myself.

"Yeah? Can we go now? You guys already paid." I said.

"We did? When?" Aliana caught on and asked.

"Just now," I replied, "don't you see the bags?" I watched her see the bags and a surprised, confused expression crossed both their faces. This routine was usual for me.



"You guys probably are suffering from temporary amnesia." I suggested as I steered them both into the parking lot, but not before smiling at the woman at the register. She smiled back. I wonder what made her happy all of a sudden. The world may never know.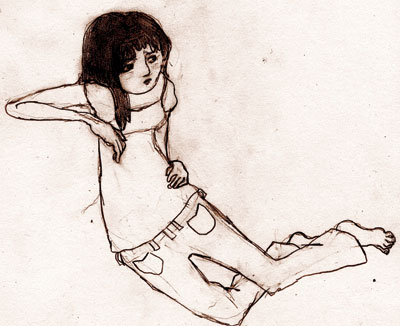 © Samantha W., Albany, NY