New Songs
March 3, 2009
After a heart break and no condolences, I passed from house to house looking for company. I needed
company badly. And to the kids house I passed. I lit and walked, puffing and walking. I lit where
people could possibly see but wouldn't. Few steps on the pebbles, few on the road. Stumbling a few
times as was my body's characteristics been forming over the year. And I tapped on the kids door. No
one answered and the wind brought the still-ish chill through my jacket. It was lovely though.
Actually, it could've been a mix of every depth that made you feel hollow. He didn't answer. I left
and walked along his driveway. The pave way was just as the dirt road had been; rocky, smooth. And
not as far as imagination suggests, there was the end of the run and the mother popped at the
window. She and I met up at the end of the stairs and at the door... 'Oh yea, he'll be back soon,
just...he'll call you and...he'll be back.' I said okay and went away. The oppression lingered,
the air hurt my hands and my hollow soul. And I started home, with puffs behind a tree and hidden
from the road.. The road path being quick and a short route. A path across an old friends house and
I came up to mine. 'Hey! Are you available? Hey!' I opened the gate and turned around. It was my
old friend from his house and across my road.

You've fallen deep.

He asked what I was doing that day. I was afraid that I wouldn't see him on his break before his
Call to Arms. He was deep into it and making a future of it. I never considered him to die if he
were on the front letting others die. It was his last day of break from a boarding school and I
wouldn't see him outside of assigned uniform thence on. I said I had nothing to do and he invited me
over for food of spaghetti and Italian sausage. I agreed and we slipped back through the woods to
his place. Dark greens to sunlight full-on and the built-on garage to the built-on house which was
darker. His parents greeted me and invited me to dinner also. I agreed and headed to his room. And
within the room it was all the same as last time; bench press, television, bed, car posters, one
exception; a little lamp that he and I fiddled with until it was broken and fixed again. I tried the
bench and couldn't press up the sixty pounds and bar, he laughed friendly and did it
light-weightedly. We searched the neighborhood towards the kid's house while he was asking me if I
had any cigarettes. When I did not he kept asking where some'd be at. I said I don't know and we
weren't going to the other house to get some because I don't know how much they've changed in
badness. 'I don't care, I'll be over there tonight to get some.' The kid didn't eat yet so we
hung around and fed his animals. He and I headed back to eat. And we did. A nice meal with noodles,
paste and Italian sausage. And we talked of Nineteen Eighty-Four. We left, met up with the kid, mad
fun of him for his tube in his stomach and left for my house. The older one asked 'would your mom
give me one?' after he unashamedly said he smoked to her. 'No, but eventually he did and we
closed the door and smoked. We were bored by all we had in my room, so he, the kid, and I walked
around the darkened neighborhood. We passed by the danger's house and I insisted on not going and we
didn't. We headed back and past my house as he told me of his first. He whispered her name in my ear
so the kid wouldn't hear. And we walked through some woods past another of my friend's house and
across a fence to a place where the Newly Enlisted never seen before. It was now a community where
it had once been forestry. 'When'd this happen?' While you were gone, the kid and I said both in
our own ways. And we walked in the silence and the darkness lessening by the spotlight of a house. I
called some friends to see if they'd pick us up. 'No , I'm sorry, but I'm with a friend.' 'Oh,
okay, but I'm here with Him.' 'Oh really?' He took the phone and talked and mentioned of
another girl coming on the phone. Talked and gave it back. 'Okay,' me looking at the spotlight,
then the sky 'have a good night.' We headed away from the house's glare and into the road of
darkness. And where we sat was named by my friend. And I suggested we lie on the rocks of the median
of the road. I stared up. He started talking of his first, oddly enough someone else. And I was in
limbo with the stars. The sky. 'Have you ever noticed... ' I tried 'stars, the sky,
everything...' I remembered my last love like the sky, twilight 'is like love?' So deep I dove
into thought of this. Ever wondrous and sparks everywhere. So deep, never-ending, you'd get stunned
like trying to find God's mindset 'We're not the Artist,' He said laughing. He stood and had
impatience, as did the kid following. I, wanting to stay, to fall asleep in it. Meditation in the
simple dark-lit sky. We moved away, taking now a shortcut to the house. Through the yards of someone
else. The kid was to die sooner or later, right around the ages of Maturity. He looked at the kid 'Okay Artist. What
do you wanna do with life,' and we passed the other friend's house. 'I want to become a
writer.' 'There's not much money in that, even when you get big.' 'I don't mind that, it's
not about that.' 'It's all about living on money.' 'Nothing else is my passion...' 'You
gotta live.' he said and looked at the kid as we walked into
the house.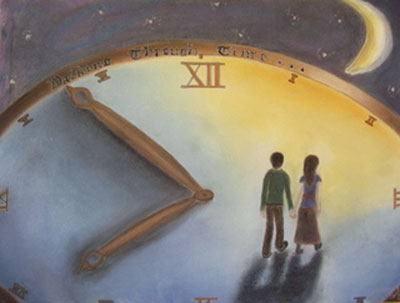 © Carollynn G., Hawthorne, NY