Love Gone Wrong
February 23, 2009
Life was great during her freshman year of high school, good grades, no boy troubles, and a loving family. She was really happy.

Jennifer started having problems around the summer before sophomore year.

During freshman year Jennifer met a guy, his name was josh, he was really sweet, kind, caring, and loving of her. She was so happy with him. She thought maybe one day it could turn into something really special. For the first few months he would bring her flowers, watch movies, and just cuddle with her. Jennifer never wanted their relationship to end, being with him made her feel good about herself, made her feel beautiful on the inside and out. He was all she ever thought about.

After about the first year that they were together, josh started drinking heavily, more and more, he started abusing Jennifer verbally, mentally, and emotionally. She just hoped and prayed that one day it would end. The drinking gave Jennifer sadness, depression, and angriness with everyone she was around. She never noticed that she was changing, becoming a different person.

Josh's drinking increased. About the sixteenth month that they were together he also started using drugs like marijuana and meth. Jennifer had finally started realizing that he wasn't the same person anymore and neither was she.

She gave josh the choice of going to rehab or not being with her. He decided that she was more important to him than alcohol or drugs so he went to rehab.

After about a month and a half of him being there he started becoming suspicious and jealous because he didn't know what she had been doing or if she had been cheating on him. Josh got so angry that he tried fighting one of the guards at rehab. They did not allow this kind of behavior so they kicked him out.

Jennifer was at home hanging out with her family having a great time, all of a sudden josh knocks on the door, and they open it and let him in. Josh was begging Jennifer to give him one more chance telling her that the reason he got out early was because he had been doing so well, so she took him back.

Everything was going great between them. They were like their old selves again. Eventually things turned on them again.

There was a rumor that Jennifer was sleeping around on him when he was in rehab. Josh started drinking again and abusing Jennifer not just verbally and mentally but physically as well.

Jennifer found out that she was about six weeks pregnant with his child. She told him that she was pregnant hoping it would change his ways.

Josh was so excited at first but of course, in time, he lost his excitement and began hanging out with his buddies and constantly drinking and using drugs again, he was completely ignoring Jennifer. Her feelings got so crushed that she finally told him how she felt. He got so angry with her that he started throwing things at her, hitting and kicking her, bruising her all over her body. When people seen the bruises, she would lie and tell them that she fell because she was scared of what he would do to her if he found out she told.

Now it has been a while since she left him and she became strong for her child. She is growing stronger and smarter! She and the growing baby in her stomach are just fine now and they are on their way to a loving, caring, friendly, free life!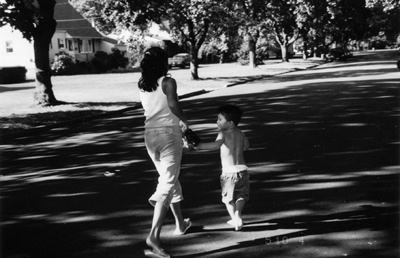 © Angelica M., Pequannock, NJ