This Dance is Barefoot
July 22, 2009
I danced barefoot against the cold, rough concrete with nothing more on my mind but dance with me. He stood there only a few feet away just looking at me spin and glide in the breeze, eyes a blazing blue. I was happy, I was free.

"Dance with me," I murmured in his ear. I hold his hand lightly spinning under his arm to assume the position of waltzing. He looked at me. Not as if to say I don't dance but just looked at me, I looked back, searching for whatever he was looking at. He broke his stare and started to glide with me in hand. Soft palms that barely if ever broke free from mine. We danced like old lovers in a square, vacant and dark. No music to follow but each other's smiles to lead. We could care less if anyone watched at that point, we were in our own separate world, and we were there together. We pulled in and out of each other like the tide and all this time I was barefoot. The concrete under my feet cold and rough. But I was in his hands warm and smooth. He pulled me in close as if to kiss me but pull out leaving me to spin in to him. He was in sneakers and I was barefoot, he noticed.

" Are you barefoot? Doesn't that hurt?" His voice like deep velvet, sun in his hair. I followed his steps. One-two three one-two three spin. My eyes left his.

"No, I can feel the ground and air under my soles." He smiled and picked me up, gently placing me down in a fast but elegant waltz. If only we were dressed formal we could be ghosts from another time flowing in the middle of a deserted square. All the shops closed up and street lamps casting dim shadows. But it was just us, two teenagers fascinated with each other. Life in motion, from low dips to high lifts. Barely a word slipped between our lips but it didn't matter. Nothing mattered between the seconds that waltz with us. The cars passing by only lit up our feet. People walking by didn't exist. Air in our hair and the ground under our feet.

" Are you happy?" He looked at me but held me closer to him as our free steps slowed to a largo.

" Yes. Are you mad at me?" We danced in the night alone and fearless. The audience had left already but we were still performing even if it means being barefoot. I could no longer feel the concrete under my toes. I could feel nothing but his presence.

" If you are happy then I am happy." Pace changed and sped up. We had each other if not forever then for that moment. I don't know when we stopped or why for whatever reason but we walked away. We walked hand and hand passing by vacant shops and street lamps casting dim shadows. But what I remember most was I was still barefoot, the ground and breeze in my step and him in my hand.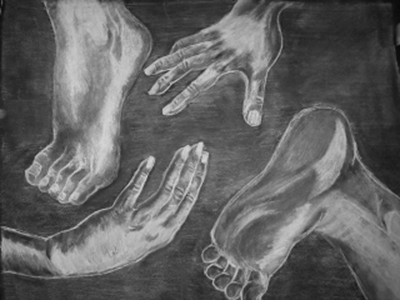 © Rachel U., Danbury, CT