Storms Of the Sea and Home
July 20, 2009
He was the son of a captain. It had just been the captain and his son for years, and they had setteled into a fairly routine, monotonous existence. The captain would disappear for months at a time, parenting his ship and crew, valiantly facing the harsh wind and storms of the sea, but never able to look his own son in his eyes out of shame. He would come back for a week. Maybe two. They would humor each other with hugs and enthusiastic greetings; possibly they would have a dinner or so, always to the background of the television. Then one day unexpectedly, he would leave a note on a severely weathered piece of paper, print and sign his title on the bottom, Captain, and he would leave. They had easily settled into this lifestyle months after they buried the boy's mother, and somewhere along the way they got stuck. Trapped in the grief of the loss and, too scared to move a toe out of line, they didn't dare break the monotony of their rather unhappy lives.
The boy spent most of his time by the water, and everyday he questioned his relationship with it. True, he found himself most content there, but there was no denying that it had stolen a piece of his life. All the water had really brought him was separation from one person or another. He went to school when he wanted to, which was surprisingly more than one would assume for a teenage boy without parental supervision. He'd come home, maybe do an hour or so of homework in the apartment, throw on a bathing suit, grab a surfboard and stay by the water until nightfall.
On the outside, it appeared to be a lonely existence, but to the boy it was just about all he could wish for. He had long ago considered the crash of the waves better company than just about most people he knew. They lived like this for several years. No adjustments. Then one day, one Friday, his monotonous routine was broken. It was around five in the evening, and after going through a series of falls, suffering from stinging eyes, and a salty mouth, the boy decided to head in early when he saw her. She looked eerily familiar, but he was sure he had never seen her before. Tanned skin from baking in the sun, her black hair flapped wildly in the wind, and she tried desperately to remove it from her eyes with no luck. She wore an oversized light pink jacket over a brown swimsuit and short khaki shorts, no shoes.
She appeared to be alone even though she stood in a cluster of four or five beach chairs. She wrapped her arm around herself, moving it up and down for warmth, and frequently shifted her weight from one foot to another, but her eyes never moved from the water and falling sun. A sort of awe-struck, fierce concentration radiated from her eyes, and the boy just stood there in wonder. Too timid to interrupt, he had neither enough will power to approach or leave her.
Conflicted in the moment, his only resolution was to drop his surf board, sit down, and attempt to understand what it was that had the power to captivate a person like it captivated the girl. As his eyes moved away from hers and onto the rough body of water he saw it in the distance. The sailboats, and then the army of ships that were coming home from months at sea and shores far away from his. Nothing special when they were docked, the boats took on the appearance of a magnificent fleet coming from distant lands as they glided through the water. He glanced at her again. Her attention still held strong. He grinned slightly to himself, shivered, picked himself up and walked off. It looked as though a storm was approaching.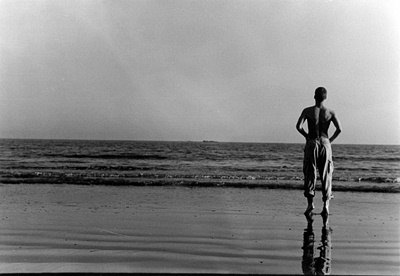 © Alexa S., Marblehead, MA