A Simple Solution
July 20, 2009
I felt like I couldn't even hear anymore, everything was drowned out. I didn't hear a word he said when we were driving. His fingertips played with the radio dials. I was used the quiet background of music now. Life needed a theme song. In my mind we were having a conversation, an important one that we're bound to have—eventually, when I'm finally brave enough to deal with our problems.
"I can't Hunter. I do have feelings for you. But they…we can't."
"Why?"
"Because, Hunter, you're going for a whole summer across the world, and then you're going to another school, you're moving to another city for God's sake!"
"What is the real problem Audrey? The two cities are a twenty minute drive away. I would rather be with you all the time, and you know that, a twenty minute drive is nothing."
"What's the real problem? That is the real problem! I'm not going to see you for two months; the two months that we really get to see each other, without the homework, and distractions. And you bounce off to some stupid, stupid camp. I stay here, bored out of my mind, wanting you like crazy. That's the real problem. Then next year, you move, you move where I'm out of your life, and I don't see you much, and you're life is completely out of my reach. I'm not going to meet your new friends, your horrible teachers, never will hear you read your essays in front of your English class, never see you walking to school, with that cup of coffee that you get me." I said, my voice quivering, and my eyes closing as I talked and talked, my voice finally slowing and quieting down to a whisper.
"That still isn't the real problem."
"You want the real problem?" I shout.
"Yeah."
"You really think you do?"
"Yeah."
"Maybe I just don't even like you anymore," I said, my voice quivering with anger and determination. But I knew that I did, so much. I liked every bit of him, his hair, his blue eyes, that smile he has that lights up the whole world for me…
"Nope. That's not the problem. Because I know you still do," he said, so confident. His voice was practically dripping with confidence. He knew too.
"You don't know me as well as you think," I spit at him.
"Yes I do."
"Then what's the real problem, Hunter? What is it?" I said in a quiet but viscous voice.
"You're afraid of commitment," he said. He's wrong. I'm not afraid of commitment, I'm afraid of falling for him.
"No I'm not."
"Liar."
"Fine. You believe what you want."
"I will," he said, defiant. In my head this conversation was bound to come near. His voice would be just like I imagine. I get good at this, imagining what they'd say… He steps out of the car, and waves at me—this is real, not in my imagination—and he say "I'll call you tonight, babe." I stepped out of my side too, to kiss him goodbye, as if nothing happened.
I nodded and got back in my car, driving away, not once looking at the rearview mirror to see if he was still standing there. I turned down the radio, and rolled down the windows—letting the wind through my hair, and letting the sound whoosh by, drowning out any sounds in my head.
The solution could have been easy, could have been simple. But every single time, I was the one who complicated things. I really let go of the very foundation of out relationship this time, at least in my head. There's no going back now.
Even with my heart breaking slowly, my foot just pressed harder on the accelerator, running farther and farther away from the problem, while the solution was as simple as letting it go where it wants, as simple as not falling into these depths of despair.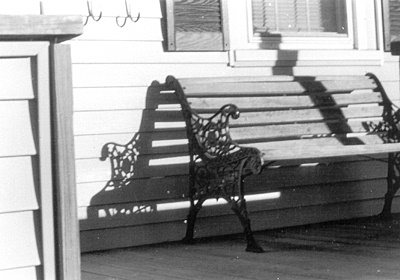 © Lauren O'D., Weymouth, MA