Inaction
July 6, 2009
He sat there, with the piece of chalk in his hand, wondering. Wondering about her, and the art she would create, and whether or not he had had any effect on her life whatsoever. He most certainly had tried; but how could he be sure? How could he be sure he had had any effect on anyone's life? Who was he, to them? Was he the boy with the chalk, who sat on the corner staring into space? Was he the guy who never seemed to talk to any of the normal people, though he never looked like he was in need of companionship? Or, was he the straight-A student; the one the lost and lonely looked to in times of hardship and despair?

Well, he knew that he was probably none of those things to anyone, except maybe the first one. Because all he did, every day, was sit on this corner with the piece of chalk in his hand, wondering and daydreaming about who he could be. Who he was or was not was of no importance, now was it?

He was there to serve. That, he was sure, was his divine purpose. But he could never quite bring himself to get up off of that curb.

When the young lady stepped into the path of the backpacked biker, all he could do was stare. He had imagined himself getting up and rushing over to save her; to push her out of the way. He had pondered what might happen if she was only walking two inches in a slightly different direction. He had even considered yelling out to her, but something stopped him. So, he sat and watched as the backpacked biker unintentionally plowed into the young lady. He watched as she was knocked off her feet, in seemingly slow motion. He saw her bag fling quite gracefully into the air. He observed with such careful meticulation as her delicate arms reached out to break her fall. He knew it was not to be her fall that was broken, but her spindly, flimsy, desperate arms. He knew that, as she landed in front of him, he could have caught her. Made the crash not as painful, not as significant for her. But he sat motionless, as he always did, watching the event as it unfurled before his stoney eyes.

Why was it that he could not move from this cold slab of concrete? What bound him to the rounded edge of the sidewalk?

These things ran through his mind as he sat, with the piece of chalk in his hand, and wondered.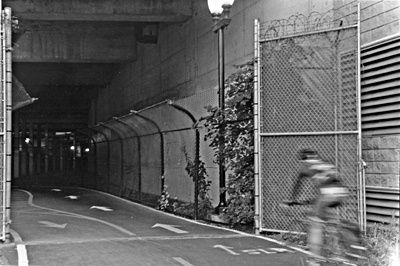 © Claire E., Bethesda, MD