Happy Endings
June 13, 2009
I contradict myself. As evident in my poetic prose:
I breathe things in. The delicious wafts of laundry detergent draped over shoulders, the colors, the shapes, and the words too – the sun-whites, tangerine-gold-apricots, steel-clouds. I breathe in memories all the time and I do not exhale.
I am a flaw. I shouldn't be here, and yet here I am. I am a flaw in your perfect symmetry, a charred stitch in your patchwork quilt of the world.
(a flaw in your design)
I am one giant metaphor.
I'm a people-person. You see me where all the birds congregate. It's a flock of birds, a beautiful, united tribe. A clan who will tear each other limb from limb over a pitiful, self-conscious crumb. They're all over the crumb.
But people never learn. They come to me, all the time, all over the world. They huddle around me, on hands and knees, snatching at my non-existent body, whimpering sometimes, determined at best. They beg me to help them, to give them what they need. Rarely do they come to me with joy painted on their faces because, by then, they would have already been holding what they were looking for. But they don't understand. I don't think they want to understand – that what they want me to give them is not mine to give.
I am not death. I am not life. I am not that extreme, although sometimes people seem to see me that way. And I am not blind. But this is not about me. In fact, I am not even in this story. But I am very near, closer than you think. This story is about a girl and, as always, a boy.

They were exact opposites, to the extent that their oppositeness made them cross paths many times. They were so opposite that they were very nearly the same. One was a girl, the other a boy. One was tanned, the other fair-skinned. One loathed books, the other ate them. One had a friend; the other had an endless supply. One was blond, the other brunette. One was artistic, the other athletic.
They both wore smiles all the time.

One despised the other. The other loved him anyway, although she did pretend.

Like I mentioned earlier, I am not in this story – as you can now probably tell why. No? Then you must still not know who I am. Stick around.

His eyes swallowed her soul. Her heart stitched itself onto his ribs. He's an ignorant rascal, a headstrong jerk, of course. He's not despicable or mean; trust me, only misunderstanding. The problem is he could not see the heart. We'll call it the invisible heart. Aren't they always invisible?

For three years, she chased him. Secretly. Outwardly they were strangers. She pursued him for exactly 1096 days, after which she stopped.

Three days later he died – on the inside. His soul was shattered, his heart broken, mended, broken again, and finally packed and shipped off. They died in a car crash, he was told, by the cold, bland officers. He was alone. But when he went home (alone, now fatherless, motherless), she was there to comfort him, help him, and be there for him. She hugged him, whispered to him and he glanced down, and saw the faint glow of a heart against his rib cage (not so invisible, now). He could live, he thought. He had another heart, right? He hugged her back.
This story could go on. It could go on and on, for miles down the twilit road. However, I think I will stop here. My job is finished, another fairy tale complete.

Oh oops. Did I say I was not in this story? I lied. I believe I have a right to lie. After all, without all the suspense and corners, I would be meaningless. One more thing I forgot to mention. I am also a great problem solver. I am a happy ending onto itself, tripled many times over. No matter what or who they are, no matter how same or similar, there is always a chance for a happy ending. I am a great problem solver, not too good an analyst, more of a risk-taker pumping with adrenaline that just happens to find solutions.
I told you, I am not blind. In fact, I see things very clearly – more perceptively than you could imagine. I am telling you now, that I can't give you what you want. You have to get it yourself.
I, Love, am nothing. You are much much more.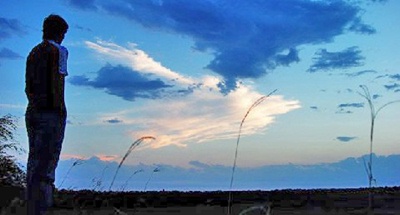 © Stefanie K., Katy, TX