The Lesson of Friendship
May 23, 2009
The sun awakened me with its brilliant ray of color. I stretched and yawned. The second I stood up, I could smell the sweet aroma of blueberry muffins seeping through the cracked door. The aroma captured my attention and made me realize how hungry I really was. I groggily walked downstairs and strolled into the kitchen.

"Good morning!" my mother said cheerfully.

"Good morning." I greeted, realizing my mother had already had her morning cup of coffee. My mother took the blueberry muffins out of the oven to cool. My mouth salivated almost as if I could taste the spongy, moist muffins melting in my mouth. While I was savoring the delectable flavor of the muffin, my cell phone vibrated vigorously. The caller ID said it was my best friend, Ellie. I answered it and heard someone gasping for breath in between sobs.

"Hello? Ellie, are you there?" I spoke frantically into the phone. The line ended, and I reached for my car keys. I kissed my mother's cheek and told her I'd be back. I sprinted out to my car, and put the key in the ignition. I backed out of the driveway, and slammed the gas pedal jerking my car forward. I didn't care about the speed limit; Ellie needed me as soon as possible.

Five minutes later, I pulled into Ellie's driveway. She was sitting in the middle of the yard, pulling up the grass. I put my car in park and ran over to her. Ellie was a mess. Her hair was tousled, eyes puffy and red from the tears that still trickled down her cheeks. I rested my arm around her shoulder, attempting to console her. Heavy, thick tears began to fall as her shoulders shook fiercely.

"Ellie, what's wrong?" I asked in a soothing tone. In our ten years of being best friends, I had never seen her so disgruntled. Ellie look up at me with wide eyes already built up with new tears. I felt my stomach churn with sympathy.

"I'm moving." Ellie whispered. My heart felt like it had just been broken in half, too far from being repaired. I began crying hard, and I hugged her with all of my strength.

"Where are you going? Why are you leaving? When?" I whispered trying to catch my breath. Ellie and I held each other close and stood up awkwardly without letting go.

"My parents said we have to move to California for my dad's job before school starts."Ellie explained. I blinked, trying to absorb what Ellie had said.

"Mikayla, maybe you should try making more friends than just me. Try not to be so shy. You have a lot to offer, and you're a good friend." She advised. I shook my head trying to wake myself up from this horrible nightmare, but this was really happening. What was I going to do? Ellie was my only friend, but now she was moving away in less than a week. This information registered in my mind for the first time.

I had to get away from here to sort my thoughts out, but I didn't want to leave Ellie here. We climbed into my car, and I pulled out of her neighborhood onto the main road. I didn't know where I was taking us. I drove down curvy dirt roads very slowly. After a long drive, we both felt much better. We had time to calm ourselves down and come to a realization of this terrible situation. I drove us back to my house, so we could enjoy our last few days together.

When we walked in, my mother squeezed us in a tight hug. She knew we had been crying, and it was her motherly instinct to soothe and comfort us. Ellie and I walked down the hall to my room. Ellie plopped onto my bed while I stumbled in the darkness to my window. I could see the crescent moon emanating a gloomy glow. Neither of us had realized it was nighttime until now. Our drive must have been longer than we thought.
Ellie sulked and sighed continuously. Sad, slow music played from my radio. It was going to be a long night.

When morning came, Ellie and I were awake. Before the sun had risen, she had awakened me by whimpering in her restless sleep. In the brief amount of time we had spent sleeping, Ellie had a chaotic nightmare. She told how vivid it was and how real it appeared to have been.

I got chills when she told me, and I hugged her again hoping maybe she wouldn't start crying again. I drove her back home reluctantly because she had to start packing. School was starting in two days, and Ellie would be boarding a plane while I would be sitting all by myself in math class. If I had known sooner that my best friend would be moving to the other side of the country, I would have at least made an attempt to make a new friend.

It was too late now, and I was hopeless. All of our plans had been shattered. We were going to spend our senior year having the time of our lives. Now I would walk down the halls with my head down, speaking to no one but myself. Ellie was always the one to break the barrier between me and boys, girls, teachers, everyone. Now I would have to break the barrier by myself without any help.

I had to keep myself busy, so I wouldn't think of all of the nerve-racking things I would soon be doing. I cleaned my already spotless room, organized my structured closet, and mowed the green grass. I deliberately dawdled throughout the day because I knew what tomorrow would bring.

The next day passed by even quicker, or maybe it was all in my imagination. It was the day that Ellie was leaving for California. We hugged for a long time, exchanged memorabilia so we would keep in touch, and said our tearful goodbyes.

Today was the day I had been dreading since Ellie had first told me she was moving. I tried to be more confident like Ellie. I strutted down the hall with my head slightly tilted up, eyes looking forward, and a certain bounce in my step. I never knew it could be so simple.


I walked to math class assertively, but my thoughts were still on Ellie.
"Hello everyone, I am Mrs. Keyes. Please take your seats and welcome to my classroom." Mrs. Keyes was a short, stout woman, with short brown hair that rounded her face and tiny black eyes. I casually scoped out the room and noted a few people I knew, but they were only acquaintances.


My eyes focused on one boy. He had short brown hair, baby blue eyes, and a glistening smile. He was sitting on the other side of the room, and he seemed shy and quiet like me. I felt my inner conscience tell me to talk to him, so when Mrs. Keyes announced that we could socialize, I found my own audacity to stand up and take the empty seat beside him.


"Hey. I'm Mikayla." I flashed him a toothy smile, and he blushed timidly.


"Hey Mikayla, I'm Jason." He smiled back.


"I haven't seen you before. Are you new here?" I asked, trying to make a conversation.


"Yeah, I just moved here from Florida." Jason said, still being shy.


"Oh, really? That's interesting. So have you made any friends here yet?" I asked. Jason was really easy to talk to once you got passed the nervousness and shyness.


"You're the first person I've met. I'm shy." He admitted shrugging his broad shoulders.


"I am too." I confessed feeling the blood rushing to my face.


"You don't seem very shy. You came up to me and started talking. I could never do that."


"Well, my best friend, Ellie, moved to California yesterday. I promised her I would make more friends." I explained.


"Oh. I'm sorry. I had to leave my best friend in Florida too." Jason said quietly.


"We have a lot in common, don't we?" I pointed out.


"We do. What's your schedule?" He asked, coming out of his shell. I reached into my purse, pulled out my schedule, and handed it to him. He examined it carefully and compared his to mine.


"We have math, science, gym, English, and Spanish together." Jason breathed as if he couldn't believe it.


"Do you want to walk to class together?" I asked. I wondered where this new-found bravery was coming from. As the weeks went by, Jason and I spent most of our time getting to know each other. I soon realized that Ellie was right. Somehow I knew that I had it in me all along. I was hiding behind Ellie so much that I didn't realize it. Now I was not alone. I had Jason, and I was sure there would be many more friends to come.


A part of me still missed Ellie, but I was content with my new life. I had never experienced anything as incredible as this. I was always shy and quiet; the girl whose name no one knew, but now I was confident and I felt like I could handle anything. I could break the barriers effortlessly. I knew that I would no longer be the silent girl.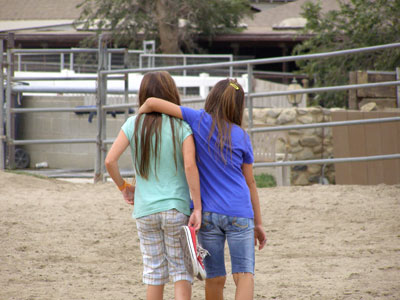 © Austin K., Studio City, CA